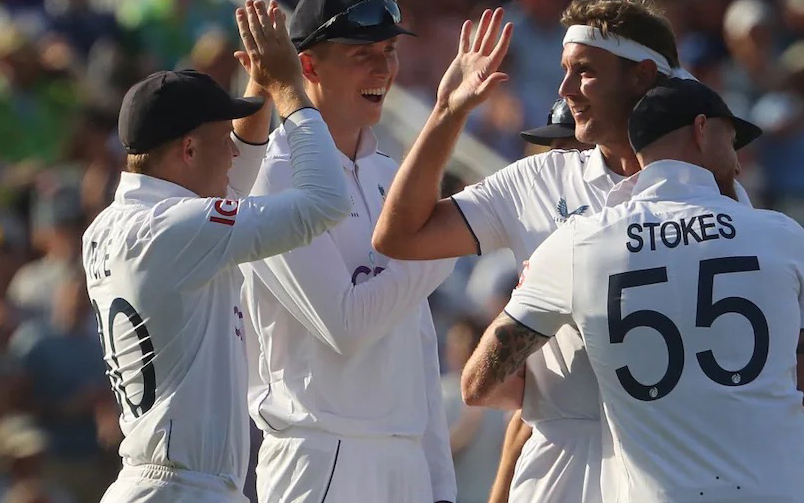 ENG vs AUS, 1st Ashes Test, Day 4 Highlights:
On the fourth day of the first Ashes Test between England and Australia, the Australian team was chasing a target of 281 runs set by England. At the end of the day's play, Australia's score was 107 for 3, with nightwatchman Scott Boland joining Usman Khawaja on the field after Stuart Broad took two quick wickets.
Earlier in the day, England were all out for 273 runs in their second innings, with Pat Cummins and Nathan Lyon taking four wickets each. This set a target of 281 runs for Australia to chase down and win the Test match. Joe Root and Harry Brook scored 46 runs each, while Ben Stokes contributed 43 runs. However, the rest of the England team was unable to provide enough support, resulting in their downfall.
In the first innings, England had taken a lead of 7 runs after dismissing Australia for 386. But the Australian team came back strongly in their second innings, with Steve Smith scoring a brilliant century. Despite losing a few early wickets, Australia continued to chase down the target with Khawaja and Boland at the crease at the end of Day 4.
MATCH NOTES:
Stumps: Australia 107/4 in 30.0 overs
Australia 101/3 in 27.3 overs
1st wkt Partnership: 50 off 89 balls between D Warner (26) and U Khawaja (22)
Australia 50/0 in 14.5 overs
Tea: England 273/10 in 66.2 overs
Innings Break: England 273/10 in 66.2 overs
England 251/8 in 59.0 overs
Drinks: England 215/7 in 51.0 overs
Referral 6 (50.2 ovs): AUS against O Robinson (Caught) Unsuccessful (ENG: 2, AUS:
0)
England 210/7: B Stokes lbw b P Cummins 43(66)
Referral 5 (48.2 ovs): B Stokes against AUs (LBW) Unsuccessful (ENG: 2, AUS: 1)
(Retained)
England 201/6 in 46.5 overs
England 196/6: J Bairstow lbw b N Lyon 20(39)
Referral 4 (45.3 ovs): J Bairstow against AUs (LBW) Unsuccessful (ENG: 2, AUS: 1)
Lunch: England 155/5 in 37.0 overs
Referral 3 (36.3 ovs): J Bairstow against AUs (LBW) Successful (ENG: 3,AUS: 1)
England 150/4 in 32.5 overs
Referral 2 (29.2 ovs):AUS against B Stokes (LBW) Unsuccessful (ENG:3, AUS: 1)
Drinks: England 121/3 in 24.0 overs
England 102/3 in 21.1 overs
3rd wkt Partnership: 50 off 45 balls between O Pope (14) and J Root (30)
England 51/2 in 13.0 overs