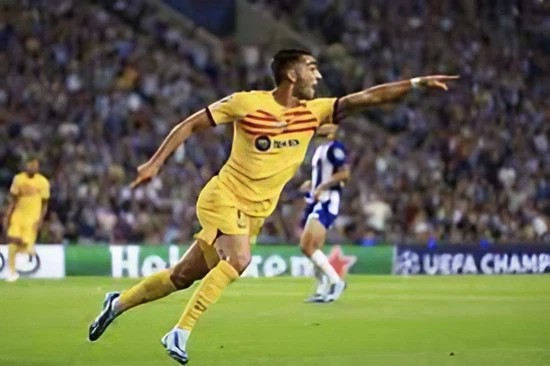 Barcelona claimed a hard-fought 1-0 victory over Porto in the Champions League on Wednesday, with Ferran Torres scoring the decisive goal. The win, which came with its share of drama, puts Barcelona in a strong position as Group H leaders to avoid elimination in the opening stage, a fate they suffered in the past two editions of the tournament. Coach Xavi Hernandez described the victory as a way to "get rid of ghosts" haunting the club from previous years.
Barcelona had to overcome numerous challenges in their away match against Porto. They survived a penalty scare, which was overturned after a VAR review, and defended against an offside goal attempt in the intense final stages of the game. Barcelona's Gavi received a second yellow card in stoppage time and was sent off, leaving the team with ten players, but they managed to cling to their narrow lead.
Xavi acknowledged that the match was tough and lacked calm and patience, but he emphasized the significance of the victory, given their past struggles in European competitions. He highlighted the fact that they secured an away win against a historically strong team like Porto.
Barcelona made a bold move by including 16-year-old Lamine Yamal in the starting lineup, making him the youngest starter in Champions League history. While Yamal showed promise, Porto largely dominated the first half, exploiting Barcelona's weakened midfield without Pedri and Frenkie de Jong.
Oriol Romeu, Barcelona's holding midfielder, faced a challenging night as Porto relentlessly pressured him throughout the match. Despite some contentious moments, he avoided a yellow card. Several Barcelona players, including Joao Cancelo, Ronald Araujo, and Gavi, were booked, as was coach Xavi.
Porto's Mehdi Taremi appealed for a penalty early in the match, but it was deemed a soft call. Joao Felix played a pivotal role in Barcelona's attacking moments, receiving jeers from Porto fans due to his past with Benfica.
A costly mistake by Porto's Romario Baro just before halftime proved decisive. His under-hit pass was intercepted by Ilkay Gundogan, who set up Ferran Torres for the only goal of the match.
Barcelona had to rely on their defensive efforts, with Jules Kounde making a crucial tackle and Marc-Andre ter Stegen making important saves, including one against Galeno. Injuries and substitutions added to Barcelona's challenges during the game.
Referee Anthony Taylor initially awarded Porto a penalty with ten minutes remaining, but the decision was reversed after a VAR review showed an earlier handball by Stephen Eustaquio. Taremi scored a stunning overhead kick, but it was ruled offside, securing the three points for Barcelona despite Gavi's late red card.
Ferran Torres, reflecting on the match, emphasized the importance of taking advantage of opposition mistakes and the significance of the three points gained by Barcelona.