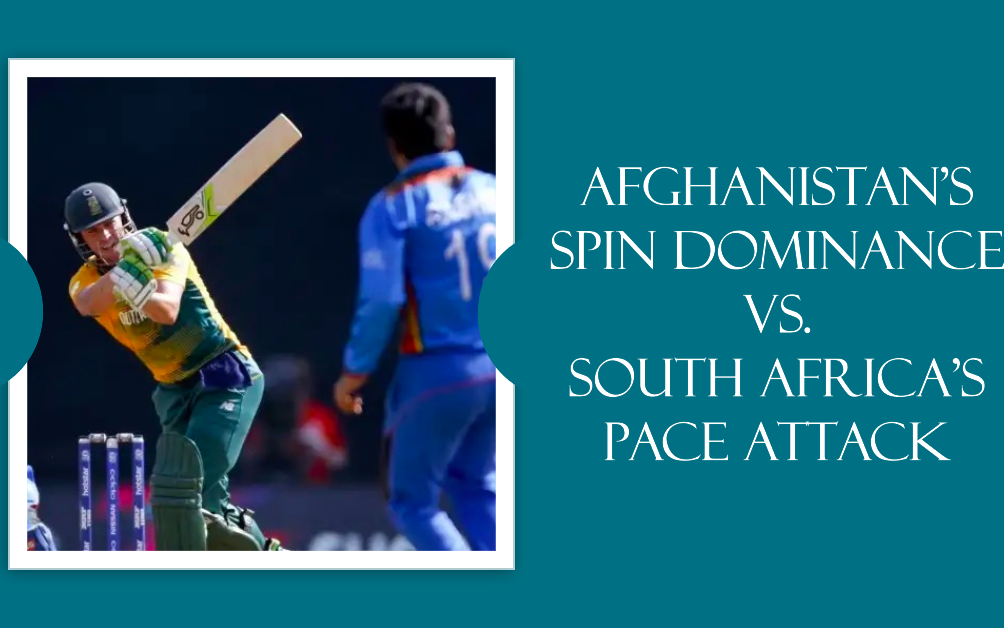 Cricket, often described as a game of glorious uncertainties, never ceases to amaze with its dynamic contests between bat and ball. As the ICC World Cup 2023 progresses, we find ourselves at the doorstep of a fascinating encounter, the 42nd match between South Africa and Afghanistan, set to take place at the Narendra Modi Stadium in Ahmedabad. This match promises a tantalizing showdown between Afghanistan's spin dominance and South Africa's fiery pace attack. In this article, we'll delve into what fans can expect from these two contrasting bowling approaches and how they might influence the outcome of this high-stakes clash.
Understanding the Bowling Battle
Cricket aficionados recognize that bowlers hold the key to a team's success. While each team's bowling attack is unique, the contest between Afghanistan's spin bowlers and South Africa's fast bowlers stands out as one of the most intriguing aspects of this match.
Afghanistan's Spin Dominance
Key Spin Bowlers: Rashid Khan, Mujeeb Ur Rahman, Mohammad Nabi
Afghanistan is renowned for its spin prowess, boasting a trio of world-class spinners in Rashid Khan, Mujeeb Ur Rahman, and Mohammad Nabi. These spin maestros have consistently troubled batsmen with their variations, accuracy, and ability to extract turn and bounce from the pitch.
Strengths:
Variations: Rashid Khan, the crown jewel of Afghanistan's spin arsenal, possesses a wide array of variations, including leg-spin, googly, and flippers. His ability to deceive batsmen is unmatched.
Economic Bowling: Afghanistan's spinners are known for their ability to maintain a tight line and length, creating pressure on batsmen and forcing them into errors.
Wicket-Taking Ability: These spinners have a knack for picking up crucial wickets, dismantling the opposition's middle order, and preventing late surges.
South Africa's Pace Attack
Key Fast Bowlers: Kagiso Rabada, Lungi Ngidi, Gerald Coetzee
South Africa, on the other hand, boasts a formidable pace attack led by Kagiso Rabada and Lungi Ngidi. These fast bowlers can generate blistering pace, extract bounce, and swing the ball, making life difficult for batsmen.
Strengths:
Express Pace: Rabada and Ngidi can consistently touch speeds in excess of 140 kilometers per hour, making them genuine fast-bowling threats.
Early Wicket Potential: The South African pace duo excels in the art of taking early wickets, which can set the tone for the entire innings.
Reverse Swing: In conditions conducive to reverse swing, South African fast bowlers can be exceptionally effective in the death overs.
What to Expect in the Match
The clash between Afghanistan's spin dominance and South Africa's pace attack promises a thrilling battle. Here's what fans can anticipate:
Battle for Control: Afghanistan's spinners will aim to control the game by strangling the scoring rate and picking up crucial wickets in the middle overs.
Pace vs. Spin: South Africa's fast bowlers will look to exploit any early movement in the pitch, while Afghanistan's spinners will aim to exploit the conditions and build pressure.
Batsmen's Challenge: The challenge for batsmen from both teams will be to adapt to the contrasting bowling styles. They must navigate the spinning deliveries of Rashid Khan and the searing pace of Kagiso Rabada.
Middle Overs Crucial: The middle overs will be a crucial phase of the match. Afghanistan's spinners could exploit the slow, turning pitch, while South Africa's pace attack might seek reverse swing as the match progresses.
Conclusion
In conclusion, the South Africa vs Afghanistan match in the ICC World Cup 2023 promises a gripping encounter defined by the battle between Afghanistan's spin dominance and South Africa's pace attack. As the teams prepare to lock horns at the Narendra Modi Stadium in Ahmedabad, the outcome of the match is far from certain, making it a must-watch for cricket enthusiasts worldwide.
For those looking to make the match even more exciting, "Join96" offers a trusted platform for cricket betting. With a wide range of betting options and valuable insights, it provides an opportunity to engage with the game at a whole new level. Whether you're backing Afghanistan's spinners or South Africa's fast bowlers, remember to bet responsibly and savor the exhilarating contest that awaits us at the Narendra Modi Stadium.