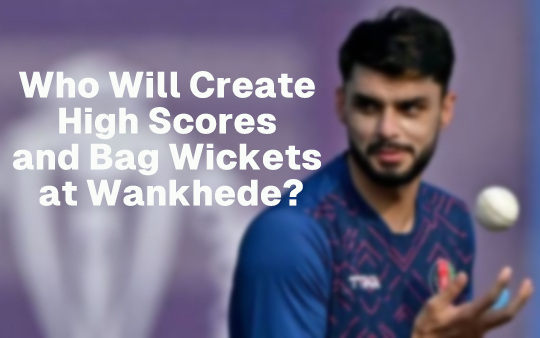 The ICC World Cup 2023 has reached its pinnacle, and cricket enthusiasts worldwide are eagerly awaiting the intense battle between the cricketing giants, Australia and Afghanistan. As the 39th match of the tournament, this encounter is set to take place at the iconic Wankhede Stadium in Mumbai. With the stage set and the stakes high, fans and experts alike are pondering which players will rise to the occasion, creating high scores and bagging crucial wickets in this crucial clash. In this article, we'll delve into the strengths and weaknesses of both teams and analyze key players' performance to predict who will shine in this highly anticipated match.
The Clash of Titans
Australia's Lineup
1. David Warner: A dynamic opener, Warner has consistently been one of the most prolific run-scorers in international cricket. His ability to dominate the opposition bowlers makes him a potential match-winner.
2. Travis Head: A solid middle-order batsman, Head's ability to anchor the innings and build partnerships is a valuable asset for the Australian team.
3. Steven Smith: One of the best batsmen in contemporary cricket, Smith's unorthodox technique and ability to play unconventional shots have troubled bowlers worldwide.
4. Marnus Labuschagne: Known for his solid technique and ability to build an innings, Labuschagne has been a consistent performer in the Australian lineup.
5. Josh Inglis (wk): As the wicketkeeper-batsman, Inglis plays a vital role in stabilizing the middle order and providing a strong finish with his aggressive strokeplay.
6. Cameron Green: The all-rounder, Green, is a valuable asset with his ability to contribute with both the bat and ball. His power-hitting and medium-fast bowling can change the course of a match.
7. Marcus Stoinis: Another versatile all-rounder, Stoinis brings a wealth of experience in limited-overs cricket. He can be effective both as a finisher and as a medium-fast bowler.
8. Pat Cummins (c): The captain of the Australian team, Cummins leads from the front. His pace bowling can dismantle any batting lineup, and his captaincy has been inspirational.
9. Mitchell Starc: Starc's fiery pace and ability to swing the ball make him a constant threat to any opposition. He is often relied upon to provide early breakthroughs.
10. Adam Zampa: The leg-spinner, Zampa, has been effective in the middle overs with his ability to turn the ball and pick up crucial wickets.
11. Josh Hazlewood: Hazlewood's accuracy and ability to extract bounce from the pitch make him a crucial asset in the bowling department.
Australia's team is a balanced blend of batting firepower and bowling strength, making them one of the favorites to lift the World Cup trophy once again.
Afghanistan's Lineup
On the other side of the pitch, the Afghanistan cricket team, although considered an underdog, has shown immense potential in recent years. They have a squad that is capable of springing surprises. Here are some of their key players:
1. Rahmanullah Gurbaz: An explosive opener, Gurbaz's aggressive style can put pressure on the opposition from the very start.
2. Ibrahim Zadran: Zadran's technique and ability to anchor the innings make him a crucial player in Afghanistan's batting lineup.
3. Rahmat Shah: A dependable middle-order batsman, Shah can stabilize the innings and build partnerships.
4. Hashmatullah Shahidi (c): As the captain of the team, Shahidi's leadership and middle-order batting will be crucial for Afghanistan.
5. Azmatullah Omarzai: A young and promising all-rounder, Omarzai's ability to contribute with both bat and ball is a valuable asset.
6. Ikram Alikhil (wk): Alikhil's wicket-keeping skills and ability to finish the innings will be crucial for Afghanistan's fortunes.
7. Mohammad Nabi: A veteran all-rounder, Nabi brings a wealth of experience to the team. His off-spin and power-hitting can change the course of the game.
8. Rashid Khan: The world-famous leg-spinner, Rashid Khan, is Afghanistan's key weapon. His ability to pick wickets in the middle overs and control the game is well-documented.
9. Mujeeb Ur Rahman: Another talented spin bowler, Mujeeb has the ability to tie down the opposition and take crucial wickets.
10. Fazalhaq Farooqi: Farooqi's pace bowling adds depth to Afghanistan's bowling attack.
11. Noor Ahmad: The young left-arm wrist-spinner has the potential to surprise the opposition with his variations.
Afghanistan's team may be considered the underdog in this clash, but they have the talent and determination to compete against any side.
Strengths and Weaknesses
Australia's Strengths
Power-Hitting: Australia's top-order batsmen, including David Warner and Steven Smith, are known for their aggressive style and ability to score quickly. This power-hitting can put the opposition on the back foot.
Pace Battery: With bowlers like Pat Cummins, Mitchell Starc, and Josh Hazlewood, Australia possesses one of the most formidable pace attacks in the world. They can exploit any conditions and trouble the best of batsmen.
Experience: Australia has a rich history of success in World Cup tournaments. The experience of playing high-pressure matches can be a significant advantage.
Australia's Weaknesses
Middle-Order Vulnerability: While their top-order is potent, the middle-order has shown vulnerability in the past. If the opposition can pick up early wickets, it can expose this weakness.
Spin Troubles: Australia has had occasional troubles against quality spin bowling. Afghanistan, with Rashid Khan and Mujeeb Ur Rahman, can exploit this vulnerability.
Afghanistan's Strengths
Spin Dominance: Afghanistan's spin duo of Rashid Khan and Mujeeb Ur Rahman is renowned for causing problems to even the best of batsmen. They can control the game in the middle overs.
Young Talent: The team has a mix of young and experienced players. The enthusiasm and fearlessness of the young talents can be an asset.
All-Round Ability: Players like Mohammad Nabi and Azmatullah Omarzai contribute significantly with both bat and ball, providing balance to the team.
Afghanistan's Weaknesses
Inexperience: Afghanistan lacks the extensive World Cup experience that Australia possesses. This could play a role in high-pressure situations.
Batting Depth: Afghanistan's batting lineup may lack the firepower to match Australia's aggressive top order.
Player Performance Analysis
To predict who will create high scores and bag wickets in the Australia vs. Afghanistan match at Wankhede, let's take a closer look at the recent performances of key players from both sides.
David Warner
Warner has been in tremendous form, consistently scoring runs in the lead-up to the World Cup. His recent performances suggest that he is a strong contender to create a high score in this match.
Rashid Khan
Rashid Khan, the spin wizard, has been consistently taking wickets in recent matches. His ability to control the game in the middle overs could trouble the Australian batsmen.
Steven Smith
Smith, with his unorthodox technique and ability to play unconventional shots, is known to handle spin well. His performance against Afghanistan's spin duo will be crucial.
Pat Cummins
As the captain and a formidable pace bowler, Cummins is likely to lead from the front. His pace and bounce can be a significant factor in bagging wickets.
Mohammad Nabi
Nabi's experience and all-round ability make him a key player for Afghanistan. He can contribute with both bat and ball, potentially making a significant impact.
Match Prediction
Considering the strengths and weaknesses of both teams and the recent player performances, it's challenging to make a definitive prediction. However, the match at Wankhede promises to be an exciting contest between Australia's power-hitters and Afghanistan's spin prowess. The outcome could depend on how well Afghanistan's spinners tackle Australia's aggressive batsmen and whether Australia's pacers can disrupt Afghanistan's batting lineup.
Conclusion
The Australia vs Afghanistan match at Wankhede Stadium in Mumbai is set to be a thrilling encounter, with both teams having their unique strengths and weaknesses. Cricket fans worldwide will be eagerly watching to see who creates high scores and bags wickets in this highly anticipated clash. For those who want to add an extra layer of excitement to the game, betting on the match is an option, and the Indibet website provides a platform to do so. Place your bets responsibly and enjoy the excitement of this World Cup clash!