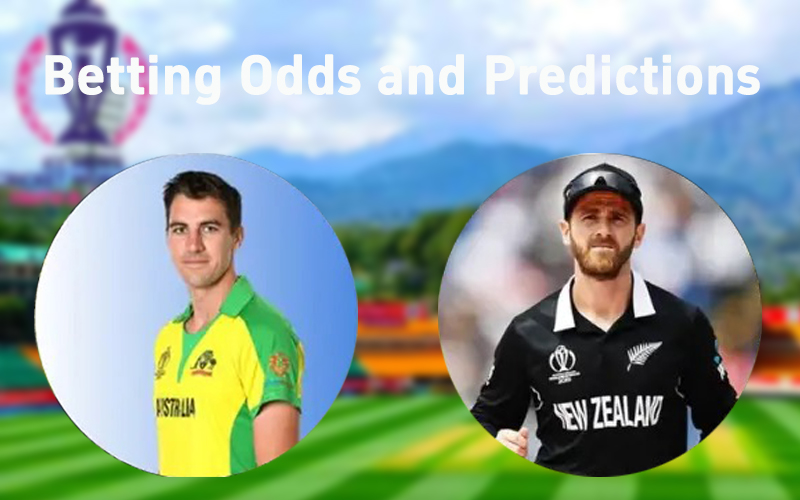 As the ICC Cricket World Cup 2023 reaches its pinnacle, cricket fans and betting enthusiasts are eagerly looking forward to the 27th match, where Australia takes on New Zealand. This high-stakes encounter, set at the stunning Himachal Pradesh Cricket Association Stadium in Dharamsala, promises a captivating battle. In this article, we'll delve into the betting odds and predictions for this match, analyzing the strengths and weaknesses of both teams and providing insights for those looking to make informed bets.
Team Analysis
Before diving into the betting odds, let's assess the strengths and strategies of both Australia and New Zealand.
Australia's Dominance
Australia, a cricketing powerhouse, has a history of World Cup victories and a reputation for resilience. Their squad is filled with star power, boasting experienced players and emerging talents.
Formidable Batting Lineup: Australia's batting lineup, led by David Warner, Steven Smith, and Marnus Labuschagne, is known for its ability to build partnerships, consolidate in the middle overs, and launch powerful assaults at the end.
Lethal Pace Attack: Australia's pace attack, featuring Mitchell Starc, Josh Hazlewood, and captain Pat Cummins, is a nightmare for batsmen. Their pace, swing, and precision often lead to quick wickets.
Spin to Win: The inclusion of Adam Zampa adds a spin dimension to their attack. Zampa's leg-spin variations can deceive batsmen and result in crucial breakthroughs.
New Zealand's Clever Tactics
New Zealand, although often considered underdogs, have a history of exceeding expectations and making smart tactical moves.
Swing and Seam: New Zealand's pacers, including Trent Boult and Tim Southee, are skilled at extracting early swing and seam movement, making early inroads into the opposition's batting lineup.
Spin Wizardry: Mitchell Santner and Ish Sodhi bring spin wizardry to New Zealand's attack. Their left-arm spin and leg-spin respectively can trouble even the most accomplished batsmen with variations.
Astute Captaincy: Captain Tom Latham's astute captaincy often leads to well-planned field settings and bowling changes, creating opportunities for wickets.
Betting Odds
Let's now take a look at the betting odds for this match:
Australia's Win: The odds for Australia's victory are set at 1.75, indicating that they are the favorites to win this contest.
New Zealand's Win: New Zealand is the underdog in this matchup, with odds of 2.25 for their victory.
Top Batsman: David Warner is the favorite to be the top batsman for Australia, with odds of 3.50. For New Zealand, Devon Conway leads the odds at 4.00.
Top Bowler: In the top bowler category, Mitchell Starc leads the odds for Australia at 3.00, while Trent Boult tops the list for New Zealand at 4.50.
Total Runs: The bookmakers have set the line for total runs at 285.5, with odds of 1.90 for both over and under.
Man of the Match: The odds for David Warner to be named Man of the Match are 6.00, while Devon Conway leads for New Zealand at 7.00.
Predictions
While predictions in cricket are always a bit of a gamble, some trends and factors can be considered.
Batting Dominance: Australia's formidable batting lineup gives them an edge. The presence of power-hitters and experienced campaigners can push them ahead in high-scoring encounters.
Early Wickets: New Zealand's pacers, Boult and Southee, can be deadly with the new ball. They might create early problems for Australia's top order.
Spin Battle: The spin duel between Adam Zampa and Mitchell Santner could be a game-changer. The spinners might play a significant role in the middle overs.
Fielding Standards: Australia's fielding standards are known to be exceptional, creating run-out chances and saving runs. This can influence the match's outcome.
Conclusion
The Australia vs. New Zealand clash in the ICC Cricket World Cup 2023 is poised to be a thrilling encounter, with both teams having their strengths and strategies. While Australia is the favorite with better odds, New Zealand's history of punching above their weight makes them a worthy opponent.
Bet from Indibet: For the latest betting odds and promotions for this match, visit Indibet, a trusted platform for sports betting enthusiasts. As you place your bets, keep in mind the team dynamics, key player performances, and the potential impact of the pitch and conditions. May the best team win in this exciting cricket showdown!