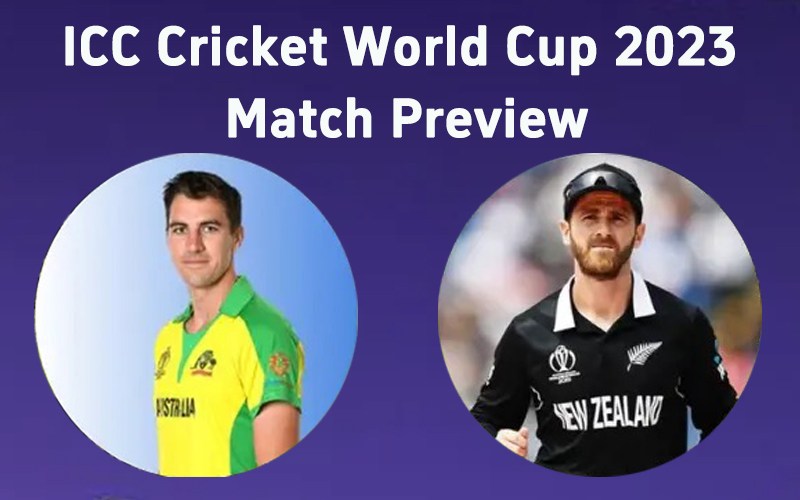 Cricket, often described as a battle of wills between bat and ball, is about to witness another intriguing clash as Australia faces New Zealand in the 27th match of the ICC Cricket World Cup 2023. This time, it's not just about the traditional contest between bat and ball but a showdown between two different styles of bowlers – spinners and pacers. As the stage is set at the Himachal Pradesh Cricket Association Stadium in Dharamsala, let's delve into the dynamics of this spinners vs. pacers battle and predict what might unfold.
The Spin Challenge
Australia's Spin Wizards
Australia's spin department is led by Adam Zampa, a leg-spin sensation known for his variations, flight, and ability to deceive batsmen. He will play a crucial role in breaking partnerships and controlling the middle overs.
Key Player: Adam Zampa
Recent Form: Zampa has been in fine form leading up to the World Cup. His performances in both domestic and international matches have been impressive.
Strengths: His leg-spin variations, including the googly, make him a potent weapon. Zampa is known for taking wickets in the middle overs, disrupting the opposition's momentum.
New Zealand's Spin Maestros
New Zealand boasts two exceptional spinners in Mitchell Santner and Ish Sodhi. Santner, a left-arm spinner, and Sodhi, a leg-spinner, bring diversity to the spin attack.
Key Players: Mitchell Santner and Ish Sodhi
Recent Form: Both Santner and Sodhi have displayed their prowess in recent matches. They have been consistent wicket-takers for New Zealand.
Strengths: Santner's accuracy and subtle variations, along with Sodhi's leg-spin and control, provide the Kiwis with spin options to handle various batting lineups.
The Pace Powerhouses
Australia's Lethal Pace Trio
Australia's pace attack is one of the most feared in world cricket. Led by the likes of Mitchell Starc, Josh Hazlewood, and captain Pat Cummins, they bring an array of skills to the contest.
Key Players: Mitchell Starc, Josh Hazlewood, and Pat Cummins
Recent Form: All three pacers have consistently delivered top-notch performances, both in international and domestic cricket.
Strengths: Starc's searing pace and ability to swing the ball, Hazlewood's precision, and Cummins' all-around skills make them a formidable trio that can dismantle any batting order.
New Zealand's Swing and Seam Specialists
New Zealand's pace duo, Trent Boult and Tim Southee, are renowned for their ability to extract swing and seam movement early in the innings.
Key Players: Trent Boult and Tim Southee
Recent Form: Boult and Southee have been consistent performers for New Zealand. They have a knack for providing early breakthroughs.
Strengths: Boult's ability to swing the new ball and Southee's seam movement and control make them a deadly combination in favorable conditions.
Pitch and Conditions
The pitch and playing conditions at Dharamsala will play a pivotal role in determining the effectiveness of both spinners and pacers.
High Altitude Advantage: Dharamsala's high altitude can affect ball behavior. The thinner air might assist pacers in generating extra bounce and movement.
Cooler Climate: The cooler climate in Dharamsala can favor pace bowlers. The swing and seam movement in the early overs might be pronounced.
Spin in the Spotlight: As the match progresses and the pitch wears down, the spinners may come into play. The dry conditions can provide grip for spinners to extract turn and control the middle overs.
Predictions
In a spinners vs. pacers battle, predicting the outcome can be a complex task. However, we can make a few educated guesses:
Early Wickets: New Zealand's pacers may exploit the early morning conditions, making early breakthroughs. Australia's top-order will have to be cautious.
Middle Overs Dominance: The spinners, Zampa, Santner, and Sodhi, are likely to play a crucial role in controlling the middle overs and picking up key wickets.
Tail-End Resilience: Both teams have strong lower-order batters who can be vital in accumulating runs in the latter stages of the innings.
Conclusion
The Australia vs. New Zealand clash in the ICC Cricket World Cup 2023 promises an exciting battle between spinners and pacers. While the pitch and conditions will influence the effectiveness of both, the skill and adaptability of the bowlers will be the key to success.
Bet from Indibet: For the latest betting odds and promotions for this match, visit Indibet, a trusted platform for sports betting enthusiasts. As you watch the match unfold and witness the spinners vs. pacers battle, consider making informed bets to elevate your enjoyment of this thrilling contest. May the best bowlers prevail in this epic showdown!