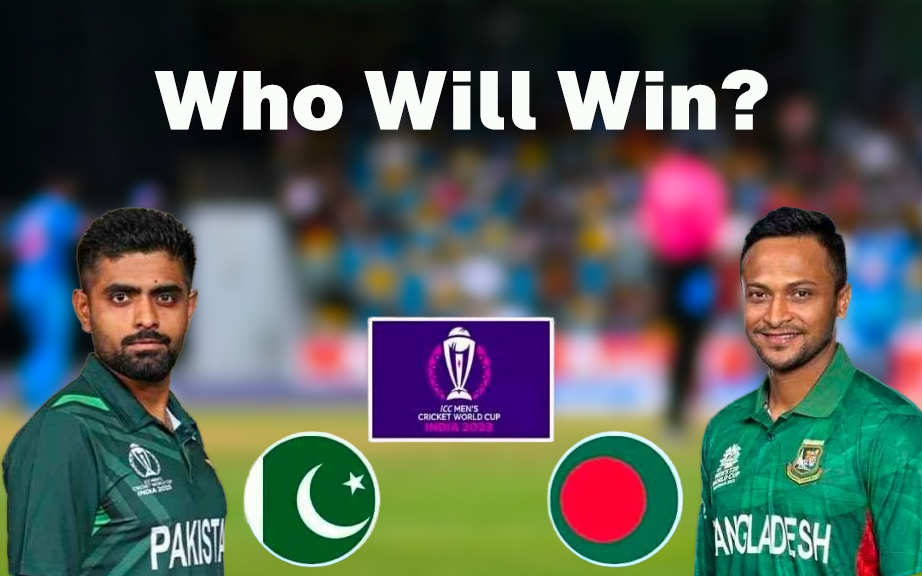 Introduction
In the heart of the ICC Cricket World Cup 2023, a battle of the bowling titans awaits cricket enthusiasts as Pakistan locks horns with Bangladesh in the 31st match of the tournament. This clash is set to take place at the iconic Eden Gardens in Kolkata, where the spotlight will be on the bowlers. In this article, we delve into the intricacies of both teams' bowling units, their standout performers, and the strategies they might employ for this high-stakes encounter.
Bowling Lineup Showdown
Pakistan's Bowling Arsenal
Pakistan boasts a formidable bowling lineup, known for its pace, swing, and variety. Let's take a closer look at the key bowlers who have been making headlines in the tournament.
Shaheen Afridi
Shaheen Afridi, a left-arm fast bowler, has been Pakistan's go-to wicket-taker. His ability to swing the ball both ways, coupled with pace and bounce, makes him a formidable force. In the tournament, Shaheen Afridi has consistently troubled batsmen with his lethal yorkers and toe-crushing bouncers.
Shadab Khan
Shadab Khan, the leg-spinning all-rounder, adds a crucial spin dimension to Pakistan's attack. His ability to vary his pace and extract turn from the wicket can be game-changing, especially in the middle overs. Shadab Khan is a wicket-taking option that the Pakistan captain can bank on.
Haris Rauf
Haris Rauf, known for his express pace and unorthodox action, is another key player in the Pakistani bowling lineup. His fiery spell can rattle even the best of batting lineups. In the death overs, Haris Rauf's lethal yorkers can be a captain's delight.
Bangladesh's Bowling Contingent
Bangladesh's bowling unit, though less fancied, has shown the ability to deliver impactful performances. Let's take a closer look at their leading bowlers.
Mustafizur Rahman
Mustafizur Rahman, known for his off-cutters and deceptive variations, has been a crucial asset for Bangladesh. His slower deliveries and impeccable line and length have often led to breakthroughs. Mustafizur's ability to control the run flow makes him a key player for Bangladesh.
Taskin Ahmed
Taskin Ahmed, a right-arm fast bowler, offers Bangladesh an extra dose of pace. His ability to extract bounce from the pitch can be a real threat to the opposition. Taskin's aggressive approach can unsettle batsmen, particularly in the early overs.
Mehidy Hasan Miraz
Mehidy Hasan Miraz, the off-spinning all-rounder, adds a spin dimension to the Bangladeshi attack. His accuracy and ability to tie down batsmen make him a valuable asset. Mehidy's knack for breaking partnerships and containing runs can be pivotal.
Pitch and Conditions
The Eden Gardens pitch, renowned for its balanced nature, offers something for both batsmen and bowlers. While it initially favors batsmen with its flat surface and even bounce, it tends to assist spinners as the match progresses. This duality of the pitch can make it an intriguing battlefield for bowlers and batsmen.
Weather conditions in Kolkata during March are generally favorable for cricket. However, the possibility of dew during the evening matches is something that teams will need to consider. Dew can affect the grip and swing of the ball, making it a challenge for bowlers to control the game.
Head-to-Head Battles
To understand which bowlers might shine in this encounter, let's take a look at the head-to-head statistics between Pakistan and Bangladesh in ICC Cricket World Cup matches.
Total Matches: 12
Pakistan Wins: 9
Bangladesh Wins: 3
No Results: 0
Pakistan's dominant record against Bangladesh in World Cup matches is indicative of their historical prowess. However, cricket is known for its unpredictability, and past records don't always determine the outcome of future matches.
Player Matchups to Watch
Here are a few key player matchups to keep an eye on in this exciting showdown:
Shaheen Afridi vs. Shakib Al Hasan: The duel between Shaheen Afridi's pace and Shakib Al Hasan's experience will be a fascinating contest. Can Shakib's seasoned approach tackle Afridi's fiery pace?
Shadab Khan vs. Mushfiqur Rahim: The battle of the spinners. Shadab Khan's leg-spin against Mushfiqur Rahim's tenacity will be intriguing. Can Shadab Khan break the backbone of Bangladesh's middle order?
Haris Rauf vs. Litton Das: The express pace of Haris Rauf against Litton Das's flamboyant stroke play. Can Litton Das counter the fiery yorkers from Rauf?
Bowling Strategy
The strategies employed by both teams' captains and coaches will be pivotal in deciding which bowlers shine. Pakistan may look to exploit the early moisture in the pitch with their pace attack, while Bangladesh could rely on their spinners to create pressure in the middle overs.
In a high-scoring ground like Eden Gardens, the ability to bowl tight lines and lengths, coupled with clever variations, will be key. Both teams may opt for a balanced combination of pace and spin to maximize their chances of success.
Conclusion
The Pakistan vs. Bangladesh clash at Eden Gardens promises to be an epic encounter, with the bowlers set to play a significant role. Both teams have a mix of experience and youth in their bowling lineups, and the pitch conditions offer opportunities for both pace and spin.
As cricket enthusiasts eagerly await this battle of bowling brilliance, it's an excellent time to explore some friendly betting options. If you're interested in betting on this match, consider placing your bet from the "Indibet" website, which offers a range of exciting opportunities for cricket betting. Remember to gamble responsibly and enjoy the thrill of the contest.
This match is not just about wickets and dot balls; it's about the artistry and skill that bowlers bring to the game. Expect a thrilling contest as the bowlers aim to outsmart the batsmen in a quest for supremacy on the hallowed turf of Eden Gardens.