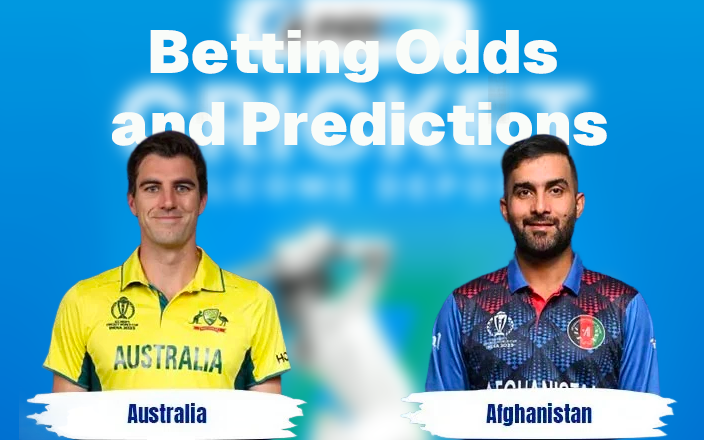 The ICC World Cup 2023 has provided cricket fans with countless thrilling moments and unforgettable matches. As the 39th match of the tournament approaches, the clash between Australia and Afghanistan at the iconic Wankhede Stadium in Mumbai promises to be a spectacle. This article is not just about predicting the winner but delves into cricket betting strategies, offering valuable insights to help you make informed decisions. With the right approach, cricket betting can add an extra layer of excitement to the game.
Understanding the Teams
Before diving into cricket betting strategies, it's essential to have a good understanding of the teams that will face off in this World Cup match.
Australia's Strengths
Australia, a cricketing powerhouse, boasts a strong squad with a blend of experience and emerging talent. Key players to watch include:
David Warner: An explosive opener known for setting the tone in the powerplay.
Steven Smith: Renowned for his unorthodox technique and ability to anchor the innings.
Pat Cummins (c): The captain leads the team with his pace and bounce, often providing early breakthroughs.
Adam Zampa: A leg-spinner with the ability to create trouble in the middle overs.
Afghanistan's Potential
Afghanistan, considered the underdog, has shown immense potential and determination. Key players in their squad are:
Rahmanullah Gurbaz: An explosive opener who can set the tone for Afghanistan's innings.
Rashid Khan: A world-famous leg-spinner known for controlling the game in the middle overs.
Mohammad Nabi: An experienced all-rounder who adds balance to the team with both bat and ball.
Hashmatullah Shahidi (c): The team's captain, leading with his middle-order batting.
Betting Strategies
When it comes to cricket betting, having a well-thought-out strategy is crucial. Here are some key strategies to consider:
1. Research and Analysis
The foundation of any successful betting strategy is thorough research and analysis. Consider factors such as team form, recent player performances, head-to-head statistics, and pitch conditions. For example, research how both teams have fared in similar conditions and whether any players have a track record of performing well at Wankhede Stadium.
2. Team Strengths and Weaknesses
Identify the strengths and weaknesses of both teams. For instance, Australia's powerful top-order batting and Afghanistan's spin prowess are key attributes. Consider how these strengths might influence the match outcome and betting options.
3. Pitch Analysis
The playing surface is often a significant factor in cricket. Analyze the pitch conditions, as they can determine whether the match is likely to be high-scoring or low-scoring. At a venue like Wankhede Stadium, which typically offers a batting-friendly track, there may be more runs on the board.
4. Weather Conditions
Keep an eye on the weather forecast. In limited-overs cricket, adverse weather can lead to Duckworth-Lewis method calculations, which can significantly impact the match result. Rain interruptions and dew can also influence the outcome.
5. Betting Markets
Understand the various betting markets available. In addition to the standard match-winner bet, explore options like top run-scorer, top wicket-taker, and total runs in an innings. Diversifying your bets can spread the risk and potentially increase your chances of winning.
6. In-Play Betting
In-play or live betting allows you to place bets while the match is in progress. This strategy can be advantageous, as you can adapt to the evolving conditions and performance of the teams. For example, if one team's top-order is firing, you might want to bet on them to score a high total.
7. Bankroll Management
Managing your betting bankroll is essential. Set a budget for your bets and stick to it. Avoid chasing losses, and never bet more than you can afford to lose. Responsible bankroll management ensures that you can continue enjoying cricket betting without excessive risk.
8. Betting on Favorites vs. Underdogs
Consider the odds and betting on favorites versus underdogs. Betting on favorites may yield lower returns, but the probability of winning is higher. Betting on underdogs can result in bigger payouts, but it's riskier. Finding a balance that suits your risk tolerance is key.
Conclusion
As the Australia vs Afghanistan ICC World Cup 2023 match approaches, it's essential to approach cricket betting with a well-thought-out strategy. Understanding the teams, analyzing factors like pitch conditions and weather, and diversifying your betting options can help improve your chances of success.
For those looking to place bets on this exciting World Cup clash, the Indibet website provides a platform for cricket betting. Remember to bet responsibly and enjoy the thrill of cricket betting, whether you choose to back the favorites or take a chance on the underdogs. With the right strategies in place, cricket betting can enhance your enjoyment of this epic showdown at Wankhede Stadium.