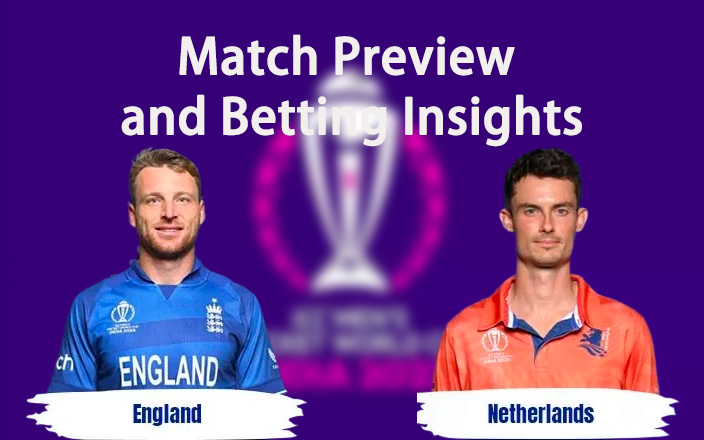 Introduction
Cricket enthusiasts and fans are in for a treat as the 40th match of the ICC World Cup 2023 unfolds at the majestic Maharashtra Cricket Association Stadium in Pune. The clash between England and the Netherlands promises to be a thrilling encounter, with both teams vying for victory in this prestigious tournament. In this match preview, we will dissect the strengths and weaknesses of each team and offer insights into who is likely to triumph in this high-stakes battle.
The Venue: Maharashtra Cricket Association Stadium
Before delving into the match analysis, it's crucial to understand the significance of the venue. The Maharashtra Cricket Association Stadium, known for its picturesque setting and well-maintained pitch, is often a neutral ground that offers an even contest between bat and ball. The pitch conditions and how they evolve during the match will have a significant impact on the outcome.
England: The Cricketing Powerhouse
The England cricket team, known for its rich cricketing history and a formidable squad, is a force to be reckoned with in the ICC World Cup 2023. Let's take a closer look at the strengths and key players of the English side.
Strengths of the England Team
Batsmen's Dominance: England boasts a powerful batting lineup with the likes of Jonny Bairstow, Dawid Malan, Joe Root, and Ben Stokes. These players have consistently delivered match-winning performances with their impeccable strokeplay and the ability to adapt to various conditions.
Variety in Bowling: England's bowling attack is equally impressive, with experienced bowlers like Chris Woakes, David Willey, Adil Rashid, and Mark Wood. Their ability to take crucial wickets and control the run rate is a valuable asset for the team.
Team Experience: The English team has a wealth of experience in playing high-pressure matches and international tournaments. This experience often proves to be a decisive factor in critical moments.
The Netherlands: The Underdogs
The Netherlands cricket team, although considered the underdogs, has the potential to create upsets and make a mark in the tournament. Let's explore their strengths and key players.
Strengths of the Netherlands Team
Dynamic Batsmen: Max O'Dowd, Colin Ackermann, and Scott Edwards are dynamic batsmen capable of taking on the best bowling attacks. Their fearless approach to batting can put pressure on the opposition.
All-Round Abilities: The Netherlands has a few all-rounders in the likes of Roelof van der Merwe and Aryan Dutt, who can contribute with both bat and ball. Such players add depth to the team's composition.
Team Spirit: The Netherlands team is known for its camaraderie and fighting spirit. In limited-overs cricket, team unity can often make a significant difference in close matches.
Head-to-Head Encounters
Historically, England has had the upper hand in head-to-head encounters with the Netherlands. The English side's strong performances in major tournaments and their well-rounded squad give them a substantial advantage. However, cricket is known for its unpredictability, and past records don't always dictate future results.
Pitch and Weather Conditions
The pitch at the Maharashtra Cricket Association Stadium is expected to be balanced, providing an even contest between bat and ball. The weather conditions on match day will also play a crucial role in determining the outcome. In case of cloudy or overcast conditions, swing bowlers can come into play, potentially affecting the batting sides.
Injuries and Form
Player injuries and current form are essential factors to consider. Staying updated on the latest team news and player performance is crucial for making accurate predictions. A player in good form and injury-free is more likely to make a significant impact on the match.
Conclusion: Bet from Indibet
As cricket fans, we eagerly await the England vs Netherlands match, which promises to be a riveting contest between a cricketing powerhouse and an enthusiastic underdog. While predicting the winner is always a challenge, analyzing the strengths and weaknesses of each team, the pitch conditions, and player form can provide valuable insights.
If you're feeling confident in your prediction, why not make it more exciting by placing a bet? Indibet, a trusted sports betting platform, offers a convenient and secure way to wager on your favorite cricket matches. With competitive odds and a user-friendly interface, Indibet is the perfect platform to test your cricket prediction skills.
Remember to bet responsibly, enjoy the game, and may the best team triumph in this epic encounter at the Maharashtra Cricket Association Stadium in Pune!