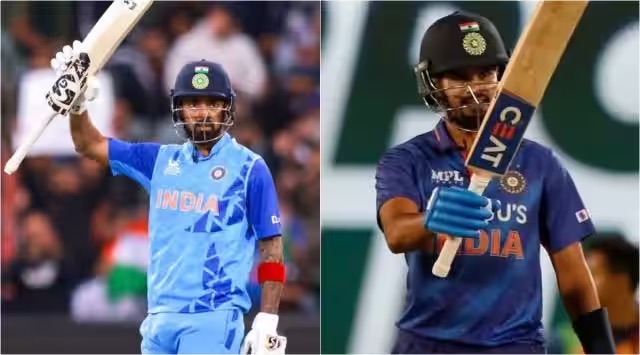 In the lead-up to the World Cup, India's chances of finalizing their squad combination are at risk if KL Rahul and Shreyas Iyer are unable to participate in the upcoming Asia Cup. With only 54 days left before the tournament, concerns are mounting over the game time and form of these two key middle-order batsmen. India is eager to end their ICC title drought, but injuries have plagued their first-choice players throughout the year. Rahul, Iyer, Jasprit Bumrah, and Prasidh Krishna have all undergone surgery and are racing against time to recover.
The Asia Cup was intended to be the platform for India to field their actual World Cup squad. However, the fitness of Rahul and Iyer has forced the team management to explore alternative options. Chairman of selectors Ajit Agarkar will hold discussions with the rest of the selectors to determine the way forward. While Bumrah and Krishna have recovered and will play in the T20Is in Ireland, Rahul and Iyer are still on the road to recovery. The announcement of the Asia Cup squad has been delayed as Rahul prepares to play practice matches and undergo a fitness test on August 18.
There is a strong possibility that Rahul will pass the fitness test, but uncertainty surrounds Iyer, who underwent back surgery. India had relied on Iyer to stabilize the middle-order, a role they have lacked in the last two 50-over World Cups. The absence of Rahul and Iyer would force India to search for a new No.4 batsman, with Tilak Varma and Sanju Samson being considered as alternate options. Surykumar Yadav's chances for the position have diminished due to a string of low scores. India is hopeful that Rahul's recovery will solve at least one of their major problems.
If Rahul is unable to participate in the Asia Cup, India faces the challenge of reshuffling their batting order. Ishan Kishan or Samson may have to step in as wicketkeepers, potentially leading to an unsettled batting order. Another option being contemplated is having Kishan open with Shubman Gill and having skipper Rohit Sharma bat at No.4. This last-minute rejig could disrupt the batting order and hinder the performance of Sharma, who, alongside Virat Kohli, is one of India's most reliable batsmen.
The inclusion of Rahul for the Asia Cup would alleviate India's concerns, allowing them to bring in a newcomer like Varma. The team management is keeping this option open, despite Varma not having played an ODI yet. Surykumar is also a candidate if both Rahul and Iyer are ruled out, but he has yet to prove himself to the team management. In this scenario, India would need to push Hardik Pandya up the order to No.5 and hope Surykumar can make an impact as a finisher at No.6 or 7.
With uncertainties surrounding Rahul and Iyer, India will be forced to continue experimenting instead of fine-tuning their tactics and combinations during the Asia Cup. The next week will provide answers to all of India's unresolved questions, ultimately shaping their World Cup prospects.