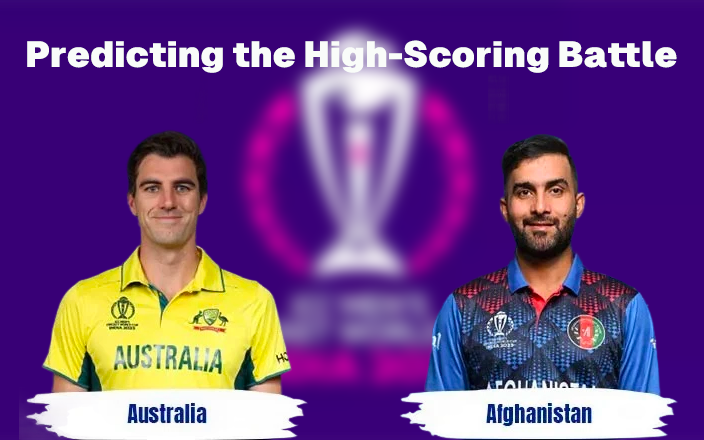 As the ICC World Cup 2023 rages on, cricket enthusiasts are gearing up for an epic clash between Australia and Afghanistan. The 39th match of this prestigious tournament is set to take place at the illustrious Wankhede Stadium in Mumbai. One burning question on every cricket fan's mind is whether we will witness a high-scoring extravaganza or a low-scoring duel in this thrilling encounter. In this article, we will delve into the factors that could influence the final outcome and make our predictions for the Australia vs Afghanistan clash.
The Battle at Wankhede
Setting the Stage
Wankhede Stadium in Mumbai, with its reputation for being a batting paradise, has always been a dream destination for cricketers and fans alike. The venue has seen some of the most iconic moments in cricket history, from Sachin Tendulkar's farewell to India's 2011 World Cup triumph. With a pitch that generally favors batsmen, a high-scoring contest is always on the cards. However, the conditions, team strategy, and player performance play pivotal roles in determining whether it will indeed be a high-scoring extravaganza or a low-scoring duel.
Australia's Formidable Squad
Australia, a cricketing powerhouse, has a formidable squad that boasts a mix of experienced players and emerging talents. Let's take a closer look at their key players:
David Warner
Warner, known for his explosive batting at the top of the order, has the ability to take the game away from the opposition in the powerplay.
Steven Smith
Smith's unorthodox technique and ability to anchor the innings make him a crucial asset, especially in high-pressure situations.
Pat Cummins (c)
The captain of the Australian team, Cummins, leads from the front with his pace and bounce, providing early breakthroughs.
Adam Zampa
Zampa's leg-spin is known to create troubles for batsmen in the middle overs. His variations and control can be an asset for Australia.
Afghanistan's Rising Stars
Afghanistan, on the other hand, may be considered the underdog, but they have showcased their potential and determination. Here are some key players from their squad:
Rahmanullah Gurbaz
Gurbaz, an explosive opener, can set the tone for Afghanistan's innings with his aggressive style.
Rashid Khan
Rashid Khan, a world-famous leg-spinner, is Afghanistan's key weapon. His ability to control the game in the middle overs is well-documented.
Mohammad Nabi
Nabi's experience and all-round ability make him a valuable asset, providing balance to the team with both bat and ball.
Hashmatullah Shahidi (c)
As the captain of the team, Shahidi's leadership and middle-order batting will be crucial for Afghanistan's fortunes.
Factors Influencing the Outcome
Pitch Conditions
Wankhede Stadium is known for its flat, batting-friendly pitches. However, the pitch can change over the course of a match. Early in the day, there might be assistance for the seamers, and as the match progresses, it typically becomes an ideal batting track. Weather conditions, such as dew in the evening, can further alter the balance between bat and ball.
Team Strategy
Team strategies play a significant role in the final outcome. The captain's decision to bat or bowl first, the fielding placements, and the use of spinners and pacers will all impact the scores. Australia may look to capitalize on their powerful batting lineup, while Afghanistan could rely on their spinners to put pressure on the Australian batsmen.
Player Form
Recent player performances are critical in determining the outcome of a match. A player in top form is more likely to score runs or pick up wickets. David Warner's explosive batting, Rashid Khan's wicket-taking ability, and Steven Smith's composure under pressure are all factors to consider.
High Score Extravaganza Predictions
If we are to witness a high-scoring extravaganza in the Australia vs Afghanistan clash, several elements will need to align:
Batting Dominance: Both teams will need their top-order batsmen to fire and build substantial partnerships. The likes of David Warner, Steven Smith, and Rahmanullah Gurbaz will need to take charge and capitalize on the batting-friendly conditions.
Exploiting Powerplays: The teams will need to maximize their run-scoring in the powerplays, which is a typical feature of high-scoring matches. Aggressive opening partnerships and strong power-hitting in the middle overs will be crucial.
Adapting to Pitch Conditions: The batsmen will need to adjust their game according to the pitch conditions and the time of the match. As the pitch gets flatter, they must exploit it to the fullest.
Bowlers Under Pressure: In high-scoring matches, the bowlers often face immense pressure. They need to keep their nerves and execute their plans effectively to prevent massive totals.
Low Scoring Duel Predictions
On the flip side, if the conditions favor a low-scoring duel, certain factors will come into play:
Early Wickets: Early wickets for both sides will put immense pressure on the batting lineups. If pacers can exploit the early conditions and get quick breakthroughs, it can lead to a low-scoring affair.
Spin Dominance: Spinners, especially Rashid Khan and Adam Zampa, will play pivotal roles. If they can grip the ball and get it to turn, it will be challenging for batsmen to score freely.
Lack of Power-Hitting: In low-scoring matches, the absence of explosive power-hitting can make it difficult for teams to set or chase big totals. The middle-order's ability to accelerate becomes vital.
Defensive Field Placements: Captains might opt for defensive field placements to contain the opposition's scoring. Tight fielding and strategic bowling changes can restrict run-scoring.
Conclusion
The Australia vs Afghanistan match at Wankhede Stadium in the ICC World Cup 2023 promises to be a riveting contest, with the potential for either a high-scoring extravaganza or a low-scoring duel. The outcome will depend on a multitude of factors, including pitch conditions, team strategy, and individual player performances.
For those looking to add an extra layer of excitement to the game, betting on the match is an option, and the Indibet website provides a platform to do so. Place your bets responsibly and enjoy the thrill of this World Cup clash! Whether it's a high-scoring extravaganza or a low-scoring duel, one thing is certain: cricket fans are in for a treat at Wankhede.