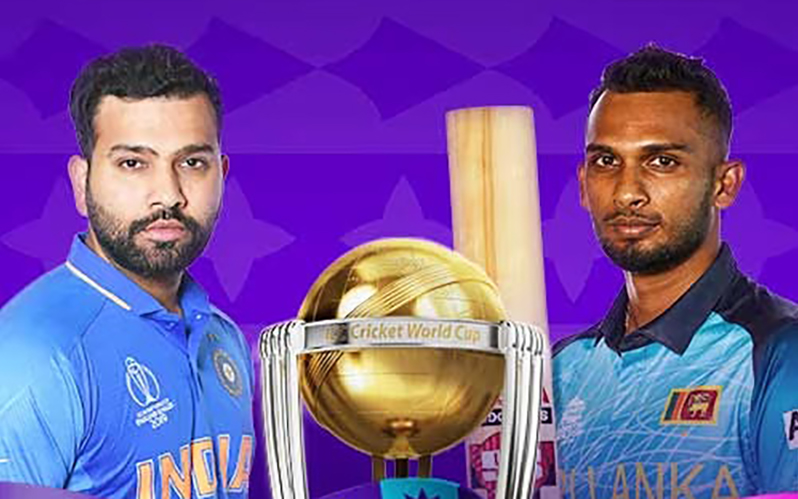 33rd Match
Series: ICC World Cup 2023
Venue: Wankhede Stadium, Mumbai
The ICC World Cup 2023 has reached a crucial juncture, and all eyes are on the 33rd match of the tournament, where India takes on Sri Lanka at the iconic Wankhede Stadium in Mumbai. While team performance is essential, individual brilliance often becomes the highlight of these high-pressure encounters. In this article, we will shine a spotlight on some of the standout players from both sides and predict who might shine in this India vs Sri Lanka clash.
India's Bright Stars
The Indian cricket team is stacked with talent, and there are several standout players who have the potential to take the match by storm. Let's take a closer look at some of the key Indian players to watch:
Rohit Sharma (c)
As the captain of the Indian cricket team, Rohit Sharma brings not only leadership but also exceptional batting prowess to the table. Known for his stylish stroke play and ability to score big runs, Rohit's performances at the top of the order have often set the tone for India.
Virat Kohli
Virat Kohli, one of the world's premier batsmen, is renowned for his consistency and the ability to chase down targets. His aggressive approach and determination to excel in every match make him a vital asset for India.
Jasprit Bumrah
In the fast bowling department, Jasprit Bumrah is the spearhead of India's attack. His pace, accuracy, and the ability to bowl deadly yorkers make him a force to be reckoned with. Bumrah's knack for breaking partnerships and creating pressure can be a game-changer for India.
Ravindra Jadeja
Ravindra Jadeja is a versatile all-rounder, known for his left-arm spin, electric fielding, and handy contributions with the bat. His ability to turn the game with both bat and ball makes him a crucial player.
Sri Lanka's Shining Stars
While Sri Lanka may not have the same depth of star power as India, they have players who can light up the cricketing stage. Here are some key Sri Lankan players to watch in this match:
Kusal Mendis (c & wk)
Leading the Sri Lankan side, Kusal Mendis carries the dual responsibility of captaincy and wicket-keeping. His batting prowess and experience in the middle order are vital for Sri Lanka's fortunes.
Angelo Mathews
Angelo Mathews, a seasoned campaigner, is known for his all-round abilities. His ability to contribute with both bat and ball can turn the tide in Sri Lanka's favor. In pressure situations, Mathews often steps up to the plate.
Dushmantha Chameera
Dushmantha Chameera is Sri Lanka's pace spearhead. His raw pace and the ability to generate movement can pose a significant threat to opposition batsmen. Chameera's early breakthroughs can set the tone for Sri Lanka's bowling effort.
Maheesh Theekshana
A rising star in Sri Lankan cricket, Maheesh Theekshana is known for his mystery spin. His unorthodox style and a range of variations can create uncertainty among batsmen. Theekshana's ability to turn the match in Sri Lanka's favor should not be underestimated.
Predicting the Stars of the Match
In a high-stakes encounter like India vs Sri Lanka, the stars of the match often emerge under the spotlight, making significant contributions to their respective teams. Let's make some predictions about who might shine in this crucial clash.
Batting Brilliance: Virat Kohli and Kusal Mendis
Both Virat Kohli and Kusal Mendis are known for their consistency with the bat. They have the ability to anchor their team's innings and play crucial innings under pressure. The match could witness a contest between these two batting stalwarts, and their performances are likely to be pivotal.
Bowling Excellence: Jasprit Bumrah and Maheesh Theekshana
The duel between Jasprit Bumrah and Maheesh Theekshana promises to be fascinating. Bumrah's pace and accuracy against Theekshana's mystery spin could be a defining battle in the match. The one who can outfox the opposition's batsmen may shine as the top bowler.
All-Round Impact: Ravindra Jadeja and Angelo Mathews
Ravindra Jadeja and Angelo Mathews are two all-rounders known for their ability to turn the match with both bat and ball. Their contributions in both departments could make all the difference in a closely contested match.
Conclusion
As we eagerly await the India vs Sri Lanka clash at the Wankhede Stadium, the anticipation is building, and the stage is set for individual excellence to shine through. While cricket is a team sport, the performances of key players often define the outcome of a match. It remains to be seen which stars will rise to the occasion, making their mark on the ICC World Cup 2023.
For those who want to add an extra layer of excitement to this match, consider placing your bets on the "Indibet" website for the latest odds and insights. Whether you're supporting Team India or Team Sri Lanka, may the stars of the match lead you to victory in this thrilling contest.