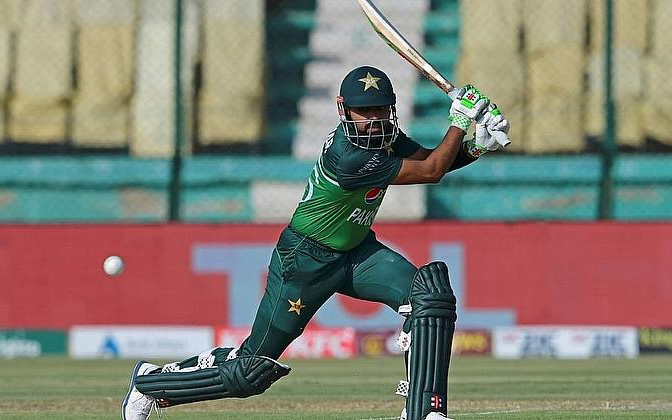 Cricket is a game of intriguing battles within the game. As New Zealand and Pakistan prepare to face off in the 35th match of the ICC World Cup 2023 at the iconic M. Chinnaswamy Stadium in Bengaluru, cricket enthusiasts are eagerly anticipating some epic confrontations between star batsmen and top-class bowlers. In this detailed analysis, we'll explore the key battles that could shape the outcome of this thrilling encounter.
Battle 1: Devon Conway vs. Shaheen Afridi
Devon Conway
One of New Zealand's most dependable batsmen, Devon Conway, is renowned for his stylish strokeplay and the ability to adapt to various formats. He combines traditional elegance with modern aggression, making him a valuable asset in the top order.
Shaheen Afridi
Standing tall and delivering fiery spells, Shaheen Afridi is Pakistan's pace sensation. With the ability to extract bounce and movement, he often troubles even the most accomplished batsmen. His left-arm angle and accuracy make him a formidable bowler.
Prediction: This battle promises to be a treat for cricket enthusiasts. While Devon Conway's classical style might see him succeed, Shaheen Afridi's early breakthroughs could provide Pakistan with a crucial advantage.
Battle 2: Babar Azam vs. Tim Southee
Babar Azam
Babar Azam, Pakistan's captain, is widely considered one of the best batsmen in the world. His impeccable timing and elegant cover drives have earned him a reputation as a run-machine. Babar is known for his ability to anchor the innings and play match-winning knocks.
Tim Southee
Tim Southee, the experienced Kiwi fast bowler, has the uncanny ability to swing the ball both ways, even in unfriendly conditions. His experience and variations in pace have been instrumental in dismantling opposition batting line-ups.
Prediction: This battle between class and experience will be intriguing. Tim Southee's ability to swing the ball may challenge Babar Azam, but the Pakistani captain's exceptional skills may shine through.
Battle 3: Mitchell Santner vs. Shaheen Afridi
Mitchell Santner
Mitchell Santner is New Zealand's utility player, contributing with both bat and ball. As a left-arm spinner, he has the knack of varying his pace and extracting turn. His intelligent bowling often puts batsmen in a dilemma.
Shaheen Afridi
The battle against Shaheen Afridi doesn't end with Devon Conway; it extends to all Kiwi batsmen. His pace, bounce, and left-arm angle can be menacing. Afridi's ability to generate awkward bounce makes him a threat to both right and left-handed batsmen.
Prediction: This contest between spin and pace could be a game-changer. While Mitchell Santner's variations may create difficulties for the batsmen, Shaheen Afridi's raw pace and bounce can disrupt the rhythm.
Battle 4: Mohammad Rizwan vs. New Zealand Pacers
Mohammad Rizwan
Pakistan's wicketkeeper-batsman, Mohammad Rizwan, has been in sensational form, providing solid starts to his team. His aggressive yet technically sound approach to batting has been a revelation.
New Zealand Pacers
New Zealand's pace battery, including the likes of Tim Southee, Matt Henry, and Trent Boult, poses a formidable challenge. Their ability to swing the new ball and extract movement from the pitch is well-documented.
Prediction: Mohammad Rizwan's aggressive style may keep the Kiwi pacers on their toes, but their experience and ability to swing the ball could provide New Zealand with an edge.
Insights from Previous Encounters
In previous matches between New Zealand and Pakistan, we've witnessed some captivating battles. The unpredictability of these encounters adds to the excitement, as both teams have a knack for turning the tide when least expected.
Conclusion
As the clash between New Zealand and Pakistan looms on the horizon, cricket enthusiasts are in for a treat. The battles between star batsmen and top-class bowlers will undoubtedly be the focal point of this encounter. While predictions offer some guidance, cricket's charm lies in its inherent unpredictability, where anything can happen on the day of the match.
For those looking to elevate their cricketing experience, consider placing your bets on the "Indibet" website. Indibet provides a user-friendly platform, a wide range of betting options, and the opportunity to engage with fellow cricket enthusiasts. Enjoy the excitement, and may the best team emerge victorious in this epic battle!