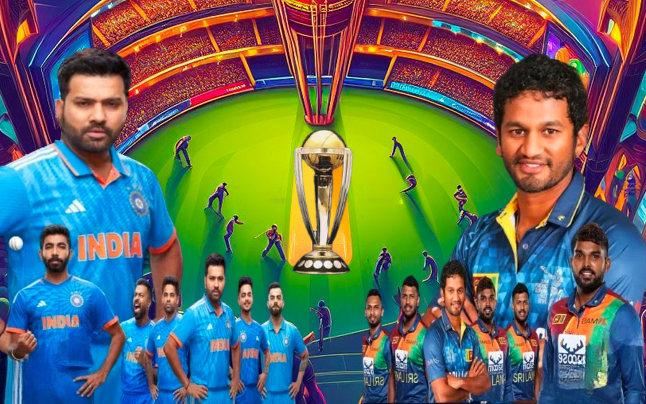 Series: ICC World Cup 2023
Venue: Wankhede Stadium, Mumbai
Cricket enthusiasts around the globe are gearing up for an exciting clash as India takes on Sri Lanka in the 33rd match of the ICC World Cup 2023. While cricket is a team sport, it's often the individual battles within the game that add a layer of drama and intrigue. In this article, we will delve into some of the key battles to watch in this epic showdown at the Wankhede Stadium and attempt to predict how they might influence the outcome of the match.
Rohit Sharma vs. Dushmantha Chameera
Rohit Sharma
As the captain of the Indian cricket team, Rohit Sharma is not only responsible for leadership but also for setting the tone at the top of the order. Known for his impeccable timing and ability to score big runs, Rohit's batting prowess has often been the cornerstone of India's victories.
Dushmantha Chameera
Dushmantha Chameera, Sri Lanka's pace spearhead, is known for his raw pace and the ability to generate significant movement with the new ball. His ability to extract early breakthroughs and rattle the opposition's top order makes him a formidable force.
The Battle: The battle between Rohit Sharma and Dushmantha Chameera promises to be a thrilling contest. If Chameera can exploit any early movement and dismiss Rohit Sharma cheaply, it could tilt the balance in Sri Lanka's favor. On the other hand, if Rohit Sharma can weather the storm and build a solid foundation for India, it might set the stage for a formidable total.
Virat Kohli vs. Angelo Mathews
Virat Kohli
Virat Kohli, often touted as one of the best batsmen in the world, is known for his consistency and ability to chase down targets. His aggressive style and remarkable skill make him a potent force in any format of the game.
Angelo Mathews
Angelo Mathews, a seasoned campaigner, brings a wealth of experience to the Sri Lankan side. His all-round abilities, both with the bat and the ball, make him a valuable asset. Mathews often steps up in critical moments to guide his team to victory.
The Battle: The battle between Virat Kohli and Angelo Mathews will be one of leadership and all-round excellence. Both captains will need to lead from the front. If Mathews can dismiss Kohli early or restrict his scoring, Sri Lanka's chances of success will improve. Conversely, if Kohli can dominate and guide India to a formidable total, it will be a daunting task for Sri Lanka.
Jasprit Bumrah vs. Kusal Mendis
Jasprit Bumrah
Jasprit Bumrah is India's premier fast bowler, known for his unplayable yorkers and the ability to break partnerships. His pace, accuracy, and the ability to bowl deadly deliveries in the death overs make him a game-changer.
Kusal Mendis
Kusal Mendis, Sri Lanka's captain and wicket-keeper, is a vital cog in the team's batting lineup. His ability to anchor the innings and play crucial knocks under pressure is essential for Sri Lanka's fortunes.
The Battle: The contest between Jasprit Bumrah and Kusal Mendis will be a fascinating duel. If Bumrah can provide early breakthroughs and dismiss Mendis, it will put immense pressure on Sri Lanka's middle order. However, if Mendis can negotiate Bumrah's pace and build a substantial innings, Sri Lanka's chances of posting a competitive total will increase.
Conclusion
As India and Sri Lanka prepare to lock horns at the Wankhede Stadium in Mumbai, these key battles will be instrumental in shaping the outcome of the match. While cricket is a team sport, it's often these individual contests that determine the course of the game