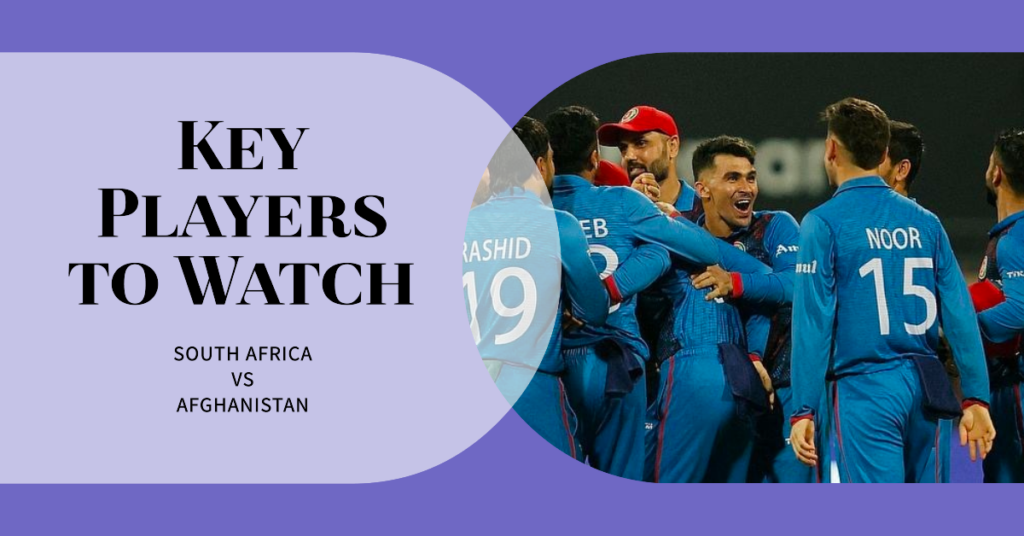 The ICC World Cup 2023 has been nothing short of a cricketing extravaganza, featuring thrilling matches, spectacular performances, and nail-biting moments. Among the many matches that have graced this tournament, the South Africa vs Afghanistan clash in the 42nd match is eagerly anticipated. As we gear up for this exciting showdown at the Narendra Modi Stadium in Ahmedabad, let's take a closer look at the key players who will likely shape the outcome of this high-stakes encounter.
Introduction
Cricket is a team sport, but it's often individual brilliance that can turn the tide in a match. Both South Africa and Afghanistan have their share of such talents, and their performances can make all the difference between victory and defeat. In this article, we'll highlight the standout players from both sides, analyzing their strengths, weaknesses, and their potential impact on the match.
South Africa's Key Players
1. Quinton de Kock (wk)
Role: Explosive Opening Batsman, Wicketkeeper
Strengths: De Kock's aggressive batting at the top of the order can set the tone for South Africa. He possesses exceptional timing and a wide range of shots that can dismantle any bowling attack.
Weaknesses: While he is known for his attacking style, De Kock can sometimes be inconsistent, and quality bowlers can target his vulnerabilities.
2. Kagiso Rabada
Role: Fast Bowler
Strengths: Rabada is South Africa's pace spearhead, capable of generating express pace and extracting movement from the pitch. He has a knack for picking up early wickets, which can be pivotal.
Weaknesses: In high-pressure situations, Rabada's discipline and decision-making under pressure can be tested.
3. Aiden Markram
Role: Batsman, Part-time Bowler
Strengths: Markram is known for his solid technique and consistency. He can anchor the innings, and his part-time bowling adds an extra dimension to the team's strategy.
Weaknesses: He can sometimes struggle under extreme pressure, and the pressure of big matches can impact his performance.
Afghanistan's Key Players
1. Rashid Khan
Role: Leg-Spin Bowler, All-Rounder
Strengths: Rashid Khan is a world-class spinner known for his ability to bamboozle batsmen with his variations. He can break partnerships and control the middle overs.
Weaknesses: As an all-rounder, he can be a handy batsman, but he might not always deliver in high-pressure batting situations.
2. Rahmanullah Gurbaz
Role: Explosive Opener
Strengths: Gurbaz's fearless approach at the top of the order can give Afghanistan brisk starts. His aggressive style can put the opposition on the back foot early.
Weaknesses: Gurbaz's eagerness to attack can sometimes lead to early dismissals, and he might need to temper his aggression in certain situations.
3. Mohammad Nabi
Role: All-Rounder
Strengths: Nabi is an experienced all-rounder who can contribute with both bat and ball. He can provide stability in the middle order and chip in with crucial wickets.
Weaknesses: In recent times, his bowling form has been inconsistent, and he might be targeted by opposition batsmen.
Key Battles to Watch
Quinton de Kock vs. Afghanistan's Spinners: De Kock's ability to handle Rashid Khan, Mujeeb Ur Rahman, and other Afghan spinners will be a crucial aspect of this match.
Rashid Khan vs. South Africa's Batting Lineup: Rashid Khan's battle with the likes of De Kock and Markram will determine the balance of power in the match.
Kagiso Rabada vs. Afghanistan's Top Order: Rabada's ability to strike early and remove Afghanistan's explosive openers will be a key battle to watch.
Venue Analysis: Narendra Modi Stadium, Ahmedabad
The Narendra Modi Stadium is renowned for its spin-friendly wickets. Spinners often play a pivotal role in matches at this venue. Both Rashid Khan for Afghanistan and Keshav Maharaj for South Africa will have a significant role to play.
Conclusion
In conclusion, the South Africa vs Afghanistan match promises to be a captivating contest, and the performances of key players will have a decisive impact. Cricket fans and bettors alike should keep a close eye on these standout individuals as they vie for supremacy in the ICC World Cup 2023.
For those looking to make the match even more exciting by placing bets, "Join96" is a recommended platform. It offers a wide range of betting options and valuable insights to enhance your cricket betting experience. Remember to bet responsibly, and may the best team, driven by their key players, emerge victorious in this exciting clash at the Narendra Modi Stadium in Ahmedabad.