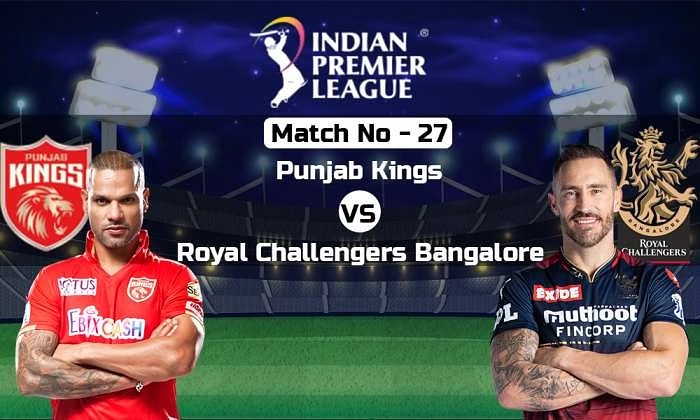 Punjab Seek Winning Momentum, Bangalore Hunt Consistency

Punjab host Bangalore, seeking to build on beating Lucknow. That win came without captain Dhawan and star Livingstone, nursing injuries. Dhawan's shoulder issue is a fresh blow but stand-ins rose to the occasion, especially Curran with ball and new finisher Khan with bat. Three wins from five, momentum has been lacking. Bangalore lost a thriller to Chennai, nearly chasing 227. Du Plessis and Kohli are potent openers ahead of the destructive Maxwell. Karthik found form and impact sub Prabhudesai fought but consistency eludes, with two wins from five.

The venue has seen chasing preferred but not always successful. Cooler weather may provide relief. Punjab's attack, led by Curran, Singh and Rabada, who loves bowling to Bangalore, is strong. Rabada has 16 wickets in 7 games vs Bangalore, dismissing Kohli and Karthik thrice each and du Plessis/Maxwell twice.

Punjab's XI (likely): Dhawan/Singh, Short/Livingstone, Bhatia, Raza, Curran, Sharma, Khan, Brar, Rabada, Singh
Bangalore's XI (likely): Kohli, Du Plessis, Lomror, Maxwell, Ahmed, Karthik, Patel, Hasaranga, Parnell, Vyshak, Siraj

Kohli strikes at 171 vs Singh, not yet dismissed by him.

My fantasy team: Kohli, Du Plessis, Maxwell, Raza, Curran, Karthik, Rabada, Singh, Hasaranga, Siraj

Punjab's attack and home advantage tilt the scale but Bangalore's batting depth means they won't go down without a fight. The odds slightly favor Punjab to continue momentum but Bangalore's four-pronged pace attack or a vintage Kohli/Maxwell show could pose problems. A close contest looms!

My prediction: Punjab to prevail owing to well-rounded attack and spin twins but Bangalore's batting may make them sweat. Cameos from Khan and Curran versus Karthik and Hasaranga could decide the cricket betting tips. Whatever the result, this should live up to billing as a cracker, keeping cricket bookies on tenterhooks!