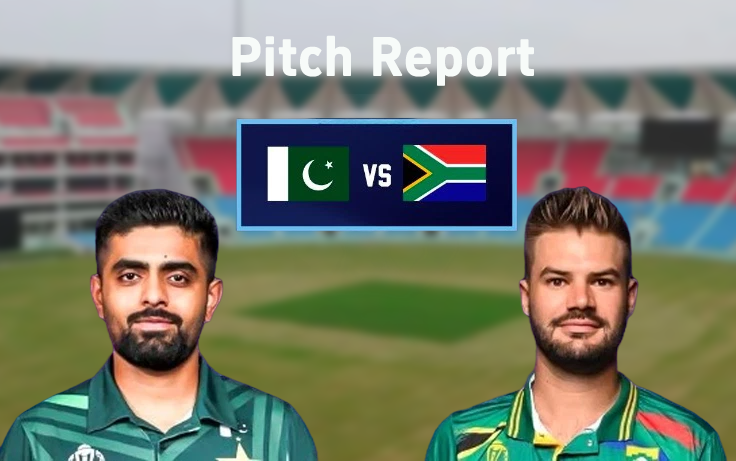 Introduction
The ICC Cricket World Cup 2023 has been a roller-coaster ride for cricket fans worldwide. As we approach the 26th match of this thrilling tournament, where Pakistan will face off against South Africa, all eyes are on the MA Chidambaram Stadium in Chennai. One of the critical factors that can sway the outcome of the game is the condition of the pitch. In this article, we'll dive into the pitch report for the MA Chidambaram Stadium, exploring how it might affect the match between Pakistan and South Africa.
MA Chidambaram Stadium: A Cricketing Icon
The MA Chidambaram Stadium, also known as the Chepauk Stadium, holds a special place in the hearts of cricket enthusiasts. It's not only a fortress for Chennai Super Kings in the Indian Premier League but also a ground with a rich cricketing history. The stadium boasts a seating capacity of approximately 38,000, creating an electric atmosphere for every match.
Pitch Overview
The pitch at MA Chidambaram Stadium is renowned for its turning tracks and assistance to spin bowlers. Over the years, it has become a paradise for slow bowlers due to its dry and abrasive surface. The hot and humid climate of Chennai can further deteriorate the pitch, making it challenging for the batsmen.
Historical Data
Before we delve into the specifics of this match, let's take a look at some historical data about the MA Chidambaram Stadium's pitches. In recent years, the wickets at this venue have generally favored spin bowlers, offering significant turn and bounce. The average first innings score here hovers around 250-270.
Players to Watch
As we examine how the pitch might impact the game, let's keep an eye on some key players from both teams.
South Africa Squad:
Quinton de Kock (wk)
Reeza Hendricks
Rassie van der Dussen
Aiden Markram (c)
Kagiso Rabada
Pakistan Squad:
Babar Azam (c)
Mohammad Rizwan (wk)
Shadab Khan
Shaheen Afridi
Hasan Ali
Pitch Conditions for Pakistan vs. South Africa
As we look ahead to the Pakistan vs. South Africa clash, the pitch at MA Chidambaram Stadium is expected to be a deciding factor in the outcome. Here's what we can anticipate:
Spin-Friendly Conditions
The dry and abrasive nature of the pitch in Chennai is likely to make it spinner-friendly. Spin bowlers from both sides will find conditions in their favor. For Pakistan, Shadab Khan will be a key asset, and South Africa will rely on Keshav Maharaj to exploit the conditions.
Batting Challenges
Batsmen on both teams will have their work cut out for them. The uneven bounce and sharp turn could pose a significant challenge, making shot selection and timing crucial. Captains Babar Azam and Aiden Markram will need to adapt their strategies to tackle this pitch effectively.
Fast Bowlers' Role
While spinners are expected to dominate, fast bowlers can still play a vital role. Seamers who can extract reverse swing in the later stages of the match might find success. Pakistan's Shaheen Afridi and South Africa's Kagiso Rabada will be crucial in this regard.
Match Prediction
Predicting the outcome of a cricket match, especially in a World Cup tournament, is a daunting task. However, based on the pitch conditions and the strengths of the two teams, we can make an educated guess.
Pakistan's Spin Dominance
Pakistan has a well-balanced squad with a strong spin department. Shadab Khan, supported by the experienced Shoaib Malik, can exploit the spin-friendly conditions effectively. If their batsmen can put up a competitive total, Pakistan has a good chance of winning.
South Africa's Pace Attack
South Africa, on the other hand, boasts a formidable pace attack. If Kagiso Rabada and Lungi Ngidi can extract movement and reverse swing, they can put Pakistan under pressure. Aiden Markram's leadership and Reeza Hendricks' batting prowess will be vital for South Africa.
Conclusion
In conclusion, the MA Chidambaram Stadium's pitch is likely to be a significant factor in the Pakistan vs. South Africa match. Spin-friendly conditions, challenging batting, and the role of fast bowlers will shape the game's outcome. While predictions are always uncertain in cricket, it's safe to say that the team that adapts better to these conditions will have the upper hand.
For those who want to add a bit of excitement to the match, betting can be an option. If you're considering placing a bet, you might want to check out the odds and options available on the Indibet website. Remember to gamble responsibly and within your means.
So, get ready for an intense battle in Chennai as Pakistan takes on South Africa. The pitch at MA Chidambaram Stadium promises to be a significant player in this high-stakes encounter, and cricket fans worldwide will be watching with bated breath.