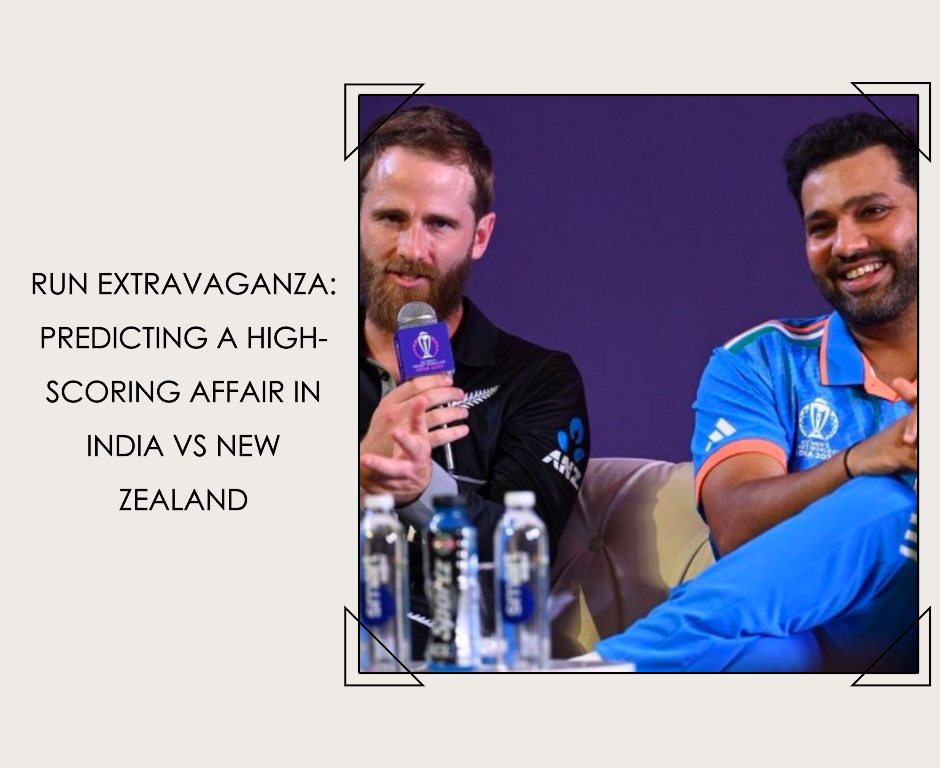 Introduction
Cricket enthusiasts are on the edge of their seats as the ICC World Cup 2023 semi-final between India and New Zealand approaches. The clash is set to unfold at the iconic Wankhede Stadium in Mumbai, a venue known for producing high-scoring thrillers. In this article, we delve into the dynamics of the upcoming match, analyzing the teams, players, and conditions that may contribute to what promises to be a run extravaganza.
The Venue: Wankhede Stadium, Mumbai
Wankhede Stadium, with its flat pitch and short boundaries, has been a paradise for batsmen. It is a venue where big scores are not uncommon, and boundaries flow freely. Bowlers often find it challenging to contain the batsmen, making it an ideal setting for a high-scoring affair.
The Teams
India Squad
Led by the experienced Rohit Sharma, the Indian squad is packed with firepower. The opening duo of Rohit Sharma and Shubman Gill can provide a solid foundation, while the likes of Virat Kohli, Shreyas Iyer, and KL Rahul form a formidable middle order. Suryakumar Yadav and Ravindra Jadeja add the finishing touch, ensuring a well-rounded batting lineup. With bowlers like Mohammed Shami, Jasprit Bumrah, and spin options in Kuldeep Yadav, India has the arsenal to dominate any opposition.
New Zealand Squad
Kane Williamson's New Zealand team, known for its resilience, is geared up for the challenge. The top order, featuring Devon Conway, Rachin Ravindra, and the captain himself, has the potential to take on India's potent bowling attack. Daryl Mitchell and Mark Chapman provide stability in the middle order, while the pace trio of Trent Boult, Tim Southee, and Lockie Ferguson, supported by Mitchell Santner, form a well-rounded bowling unit.
Anticipating a Batting Feast
1. Explosive Batting Lineups
Both teams boast explosive batting lineups capable of posting mammoth scores. The duel between India's top order and New Zealand's pace attack is set to be a spectacle, with boundaries and sixes expected to flow.
2. Short Boundaries, Big Hits
Wankhede's short boundaries have often been a nightmare for bowlers. Batsmen, especially those with powerful hitting abilities, can take advantage of the dimensions of the ground. Expect plenty of big hits and maximums clearing the ropes.
3. Historical High Scores
A look at the historical data at Wankhede reveals several instances of high scores. Teams batting first often post challenging targets, and chasing teams have successfully reached or even surpassed these targets. This trend adds to the anticipation of a run-heavy encounter.
4. Formidable Bowling vs. Dominant Batting
The clash between India's potent bowling attack and New Zealand's dominant batting lineup adds an intriguing dimension to the high-scoring affair. The battle between bat and ball is likely to be intense, with both teams aiming to outshine the other.
Betting Strategies
1. Total Runs Over Betting
Considering the venue and the batting prowess of both teams, betting on the total runs scored in the match could be a lucrative strategy. Assess the pitch conditions, form of key batsmen, and recent team performances to make an informed decision.
2. Player Performance Bets
Given the anticipated high-scoring nature of the match, betting on individual player performances becomes crucial. Look out for players like Rohit Sharma, Virat Kohli, Kane Williamson, and others who have the potential to play match-winning innings.
3. Innings Run Betting
For a more dynamic betting experience, consider placing bets on the runs scored in specific innings. Whether it's the powerplay, middle overs, or death overs, each phase can offer unique betting opportunities based on the teams' strategies and players' performances.
Conclusion
As cricket fans gear up for the India vs New Zealand semi-final at Wankhede, the stage is set for a run extravaganza. Expect fireworks, breathtaking strokes, and a nail-biting contest between bat and ball. To elevate the excitement, consider placing your bets on Join96, a trusted platform that provides a seamless and secure betting experience. Get ready for a high-scoring spectacle, and may the best team emerge victorious!