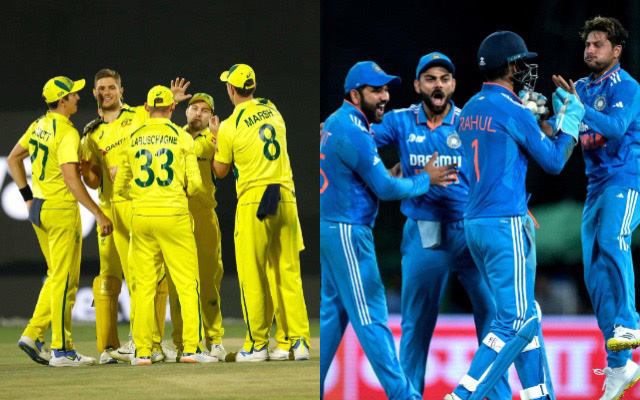 Cricket fans around the world are buzzing with excitement as the 2023 ODI World Cup unfolds in spectacular fashion. One of the most anticipated clashes of the tournament is the encounter between cricketing giants India and Australia. These two teams have a storied history and a fierce rivalry on the cricket field, making their matches a must-watch for fans.
In this article, we'll take a deep dive into the statistics, recent form, and historical data to make a stats-based prediction for the India vs. Australia clash in the ODI World Cup 2023.
Historical Perspective:
When it comes to ODI cricket, India and Australia have been two of the most successful teams in the world. Both have won the World Cup multiple times and have a tradition of producing world-class cricketers. Over the years, their matches have produced unforgettable moments and thrilling encounters.
In World Cup history, Australia holds a slight edge over India, having defeated them in key matches, including the 2003 World Cup final. However, cricket is a dynamic sport, and past performances don't always predict future outcomes.
Recent Form: 
The form of players and teams leading up to a major tournament is often indicative of their potential performance. Both India and Australia have strong squads, but let's take a closer look at their recent performances.
India:
India has been consistent in the ODI format, with notable series wins against strong opponents like England and South Africa.
Key players like Rohit Sharma, Virat Kohli, and Jasprit Bumrah have been in excellent form, providing the team with a solid foundation in both batting and bowling.
The emergence of young talents like Shubman Gill and Ishan kishan has added depth to the batting lineup.
Australia:
Australia is known for its competitiveness in World Cup tournaments, and they have shown promising signs in recent ODI series.
Aaron Finch's captaincy and opening partnership with David Warner remain pivotal to Australia's success.
The pace battery, featuring Pat Cummins and Mitchell Starc, is a potent force that can rattle any batting lineup.
Head-to-Head Stats:
Analyzing the head-to-head statistics between India and Australia in ODI cricket can provide valuable insights into their past encounters.
Total ODI Matches Played: 139
India Wins: 53
Australia Wins: 78
No Result/ Tie: 8
While Australia has a superior overall record, it's essential to note that India has had the upper hand in recent years, particularly in their home conditions. However, World Cup matches are a different ball game, and the pressure can bring out the best in both teams.
Pitch and Conditions:
The playing conditions and pitch characteristics can significantly influence the outcome of a match. For this particular encounter, the pitch and conditions in the host country, India, will be critical.
Indian pitches often favor spinners, and this can work to the advantage of India, given their spin-bowling arsenal.
The weather conditions on match day will play a crucial role, as dew can make batting easier in the second innings.
Key Player Battles:
In high-stakes matches like World Cup encounters, individual performances often make the difference. Let's take a look at some key player battles that could shape the outcome of the India vs. Australia clash:
Rohit Sharma vs. Pat Cummins:
Rohit Sharma's ability to provide India with a solid start is well-known, but Pat Cummins can be a potent threat with the new ball. The battle between these two can set the tone for the match.
Virat Kohli vs. Mitchell Starc:
Virat Kohli's consistency and ability to anchor the innings make him a key player for India. Mitchell Starc's pace and swing will be crucial in trying to dismiss Kohli early.
Adam Zampa vs. Indian Middle Order:
Adam Zampa's leg-spin can be a game-changer, especially in the middle overs. How India's middle order handles his spin will be vital.
Prediction: 
Based on recent form, historical data, and the head-to-head statistics, it's challenging to make a definitive prediction for this high-stakes encounter. Both India and Australia have the talent and experience to win on their day. However, considering India's home advantage and their strong spin-bowling department, they might have a slight edge in this contest.
Final Thoughts:
The India vs. Australia clash in the ODI World Cup 2023 promises to be a cricketing spectacle, and fans can expect an intense battle between these two cricketing powerhouses. While statistics provide valuable insights, cricket is a dynamic sport where anything can happen on the day. Ultimately, it's the performance on the field that will determine the outcome, and cricket enthusiasts worldwide eagerly await this exciting showdown.