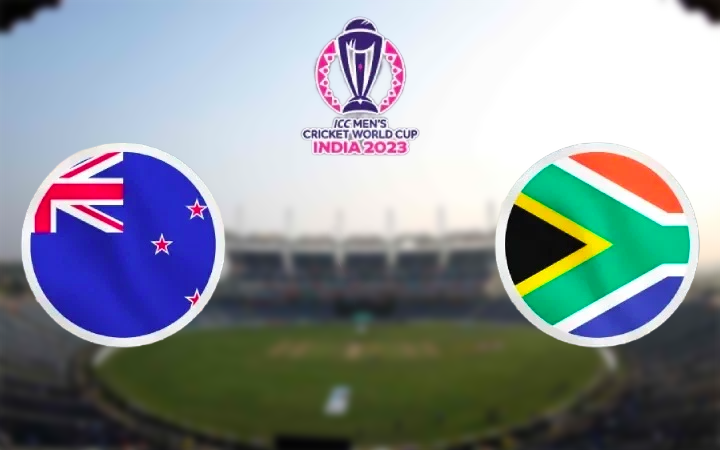 Cricket is often described as a team sport, but it's the meticulous execution of strategies and the seamless cooperation among players that lead to victory. The 32nd match of the series between New Zealand and South Africa at the Maharashtra Cricket Association Stadium in Pune promises to be a battle where teamwork and strategy will play a pivotal role. In this analysis, we will delve into the strategies that both teams employ and how their teamwork can impact the outcome of the match.
Understanding the Strategies
Cricket strategies are multifaceted, covering batting, bowling, fielding, and the crucial captaincy decisions. Let's explore the strategic aspects of both teams:
New Zealand's Strategy
**1. Solid Batting Lineup: New Zealand boasts a batting lineup with a mix of power-hitters and technically sound players. Devon Conway and Will Young are capable of anchoring the innings, while the likes of Glenn Phillips and James Neesham add firepower.
**2. Captaincy of Tom Latham: Tom Latham, the captain and wicket-keeper, brings a calm and calculated approach to leadership. His decision-making under pressure and his role as a dependable batsman are crucial for New Zealand.
**3. Pace Bowling Arsenal: New Zealand's fast-bowling lineup, consisting of Matt Henry, Lockie Ferguson, and Trent Boult, can exploit conditions and take crucial wickets. Mitchell Santner's left-arm spin adds depth to their attack.
**4. Fielding Excellence: The Kiwis are renowned for their exceptional fielding skills, often creating run-out opportunities and maintaining immense pressure on the opposition.
South Africa's Strategy
**1. Aggressive Batting: South Africa's batting strategy often revolves around an aggressive approach. Quinton de Kock, Rassie van der Dussen, and Aiden Markram have the capability to change the game's dynamics with their attacking style.
**2. Pace Bowling Prowess: The Proteas are known for their formidable fast bowlers. Lungi Ngidi and Marco Jansen can generate pace and extract bounce, making them lethal in favorable conditions.
**3. Spin Options: The inclusion of spinners like Keshav Maharaj and Tabraiz Shamsi adds depth to South Africa's bowling attack and can provide valuable breakthroughs. 
**4. Team Unity: South Africa's team spirit and unity are often their strength. Under the captaincy of Temba Bavuma, their collective approach to problem-solving can turn matches in their favor.
Key Aspects to Consider
To make an accurate prediction about the match, let's explore the key aspects that can influence the outcome:
**1. Pitch Conditions: The Maharashtra Cricket Association Stadium in Pune is known for its batting-friendly wickets. However, bowlers who can extract movement off the seam or utilize spin effectively could find success.
**2. Team Form and Momentum: A team's recent performance and momentum can be crucial in determining their confidence and form. Analyze their recent matches and consider how well they've adapted to different conditions.
**3. Head-to-Head Record: Historical performance against each other can provide insights into their historical rivalry. Consider how they have fared in similar conditions in the past.
**4. Bowling Strategies: The choice of bowling strategies, including field placements and the use of spinners or fast bowlers, can significantly impact the game. 
Conclusion
Cricket is often described as a game of glorious uncertainties, and this encounter between New Zealand and South Africa promises to be no different. The outcome will be influenced not only by individual brilliance but by the cohesion and execution of strategies as a team.
For those looking to add an extra layer of excitement to the match, consider placing bets on the game. To ensure a safe and enjoyable betting experience, we recommend visiting the Indibet website. Whether you're analyzing strategies or placing bets, always remember to gamble responsibly and within your means. As cricket enthusiasts eagerly anticipate the match, they can look forward to an intriguing battle where teamwork and strategy will ultimately determine the victor