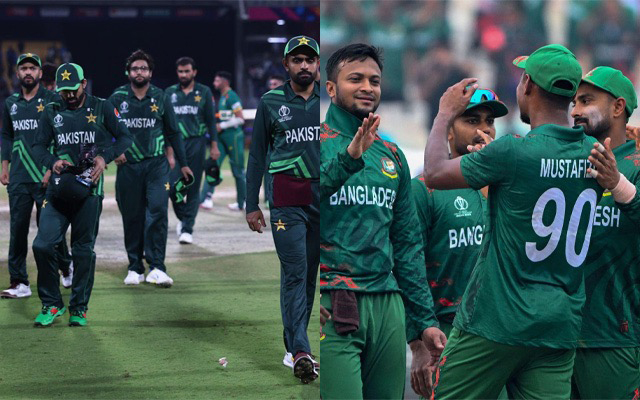 Introduction
Cricket enthusiasts from around the world are gearing up for an intense showdown as Pakistan faces Bangladesh in the 31st match of the ICC Cricket World Cup 2023. This exciting encounter is set to take place at the iconic Eden Gardens in Kolkata, India, and promises to be a clash of cricketing titans. In this article, we will delve into the key players from both sides who are expected to play pivotal roles in this high-stakes match.
The Venue: Eden Gardens, Kolkata
Eden Gardens, often referred to as the "Mecca of Indian Cricket," is one of the most renowned cricket stadiums globally, steeped in history and tradition. With a seating capacity of over 66,000, it stands as the largest cricket stadium in India, known for its electric atmosphere and memorable cricketing moments. The lush green outfield and a pitch that offers assistance to both batsmen and bowlers make Eden Gardens an ideal venue for a contest of this magnitude.
Pakistan's Key Players
Babar Azam – The Elegant Maestro
Babar Azam, Pakistan's captain, and batting maestro, is hailed as one of the most consistent and stylish batsmen in the world. His exquisite strokeplay and ability to anchor the innings make him the cornerstone of Pakistan's batting lineup. In the clash against Bangladesh, his role as the linchpin of the batting order will be instrumental in setting up a competitive total or chasing down a target.
Shaheen Afridi – The Lethal Pacer
Shaheen Afridi, Pakistan's premier fast bowler, is equipped with the ability to swing the ball both ways and trouble even the most accomplished batsmen. His lethal yorkers and well-directed bouncers have the potential to dismantle the opposition's batting lineup. In a crucial contest like this, Afridi's raw pace and accuracy will be vital for Pakistan.
Shadab Khan – The Spin Sensation
Shadab Khan, Pakistan's spin sensation, is known for his brilliant leg-spin. He can extract turn from any surface, making him a potent weapon in the middle overs. Shadab's all-round capabilities, both with the ball and the bat, make him a valuable asset for Pakistan in their quest for World Cup glory.
Bangladesh's Key Players
Shakib Al Hasan – The All-Rounder Extraordinaire
Shakib Al Hasan, Bangladesh's most celebrated cricketer, is a true all-rounder. He is equally effective with both bat and ball and can single-handedly turn the game in his team's favor. His wealth of experience and composure under pressure make him an invaluable asset for Bangladesh. In a match of this magnitude, Shakib's performance will be keenly watched.
Mushfiqur Rahim – The Middle-Order Rock
Mushfiqur Rahim, the linchpin of Bangladesh's batting order, is known for his ability to play both spin and pace effectively. His calm and composed approach in pressure situations makes him Bangladesh's go-to man during crucial moments. Mushfiqur's wicketkeeping skills also add depth to the team.
Mustafizur Rahman – The Fizz
Mustafizur Rahman, affectionately known as "The Fizz," is Bangladesh's left-arm pacer who specializes in deceptive variations. His unorthodox deliveries and impeccable line and length have the ability to leave even the best batsmen bewildered. Mustafizur is known for picking crucial wickets, especially in the death overs, making him an essential component of Bangladesh's bowling attack.
Head-to-Head: Pakistan vs. Bangladesh
Historically, Pakistan has had the upper hand against Bangladesh in One Day Internationals (ODIs). However, the landscape of cricket has evolved, and Bangladesh is no longer considered an underdog.
The Significance of All-Rounders
In the fast-paced world of limited-overs cricket, all-rounders play an increasingly critical role. Their ability to contribute with both bat and ball adds an extra dimension to their teams, often proving to be the difference between victory and defeat. In the Pakistan vs. Bangladesh clash, the impact of all-rounders is expected to be profound.
Both teams possess world-class all-rounders in Shakib Al Hasan and Shadab Khan. These players have the potential to turn the tide of the match, providing their respective teams with the balance they need. Shakib's experience and Shadab's youthful exuberance will add an intriguing dimension to the contest, with their performances holding the key to success.
Match Prediction
Predicting the outcome of a cricket match is a task that requires careful consideration of several factors. While there are no foolproof guarantees in sports, the following factors can significantly influence the result of a cricket match:
Form and Momentum
Both Pakistan and Bangladesh's recent form and momentum are crucial indicators. The team that has been performing consistently well is likely to carry that confidence into the match.
Pitch and Conditions
Eden Gardens' pitch is known to be unpredictable. Historically, it has offered something for both batsmen and bowlers. Adaptability to the pitch and conditions will be crucial in gaining an advantage.
Key Player Performances
As mentioned earlier, key players like Babar Azam, Shakib Al Hasan, Shaheen Afridi, and Mustafizur Rahman will play pivotal roles. The team whose key players shine in high-pressure situations is likely to come out on top.
Handling Pressure Situations
Thriving in pressure situations, especially in a high-stakes tournament like the ICC Cricket World Cup, is an acquired skill. The team that remains composed and executes well in crucial moments will hold the edge.
Head-to-Head Record
While historical records don't guarantee the outcome of a single match, they do provide insights into the teams' dynamics and the expectations surrounding the contest.
Taking all these factors into account, making a precise prediction is challenging. However, one can anticipate a closely fought battle between two competitive teams, with the outcome uncertain until the last ball is bowled.
Conclusion
The Pakistan vs. Bangladesh clash at Eden Gardens promises to be a cricketing spectacle, with the potential for breathtaking performances and edge-of-the-seat moments. As the teams prepare to face off, cricket enthusiasts worldwide are in for a treat.
For those who seek to enhance their viewing experience with the added thrill of betting, Indibet provides a trusted platform. With a wide range of betting options and a user-friendly interface, Indibet offers an exhilarating betting experience. Whether you're backing Pakistan or Bangladesh, placing your bets with Indibet can add an extra layer of excitement to this epic encounter. Enjoy the match, savor the contest, and may the best team emerge victorious!