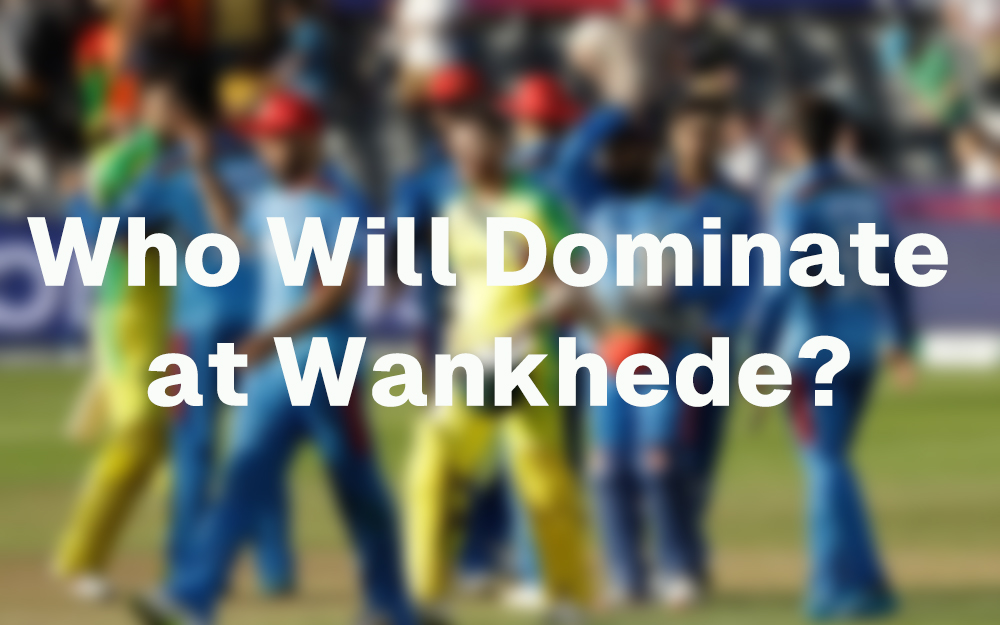 The ICC World Cup 2023 has been a thrilling journey filled with electrifying cricket, and the 39th match of the series brings together two formidable teams, Australia and Afghanistan, at the iconic Wankhede Stadium in Mumbai. As we look forward to this clash, one question looms large – who among these wicket-taking marvels will dominate at Wankhede?
The Venue: Wankhede Stadium
Before we dive into the battle of wicket-takers, it's essential to understand the unique characteristics of the Wankhede Stadium. Renowned for its batting-friendly pitches, short boundaries, and raucous atmosphere, it has often witnessed high-scoring encounters. However, it's also a challenging ground for bowlers, where taking wickets becomes a critical art.
Australia: The Bowling Powerhouse
Australia, a cricketing powerhouse, boasts a rich history of producing world-class bowlers. Let's explore some of the key players who are expected to be the wicket-taking marvels for Australia in this match:
Mitchell Starc
Mitchell Starc, known for his lethal pace and pinpoint yorkers, can be a nightmare for batsmen. His ability to swing the new ball and extract bounce from the pitch makes him a prime candidate for taking crucial wickets.
Pat Cummins
Pat Cummins, the captain of the Australian team, is not only a brilliant fast bowler but also a handy lower-order batsman. His leadership and bowling prowess can be instrumental in breaking partnerships and capturing wickets.
Adam Zampa
Adam Zampa, the leg-spinner, is celebrated for his ability to deceive batsmen with his variations. On a pitch like Wankhede, his spin can be a game-changer in picking up key wickets.
Afghanistan: Spin Sorcery at Its Best
Afghanistan, despite being considered underdogs, possess a unique strength in their spin bowling department. Their ability to spin the ball both ways and deliver a variety of variations makes them a formidable force. Here are some key players who could shine as wicket-taking marvels in this match:
Rashid Khan
Rashid Khan, a global sensation in T20 cricket, is known for his leg-spin magic. His variations and accuracy can be a nightmare for batsmen and lead to critical wickets.
Mohammad Nabi
Mohammad Nabi, an experienced all-rounder, can make significant contributions with both bat and ball. His off-spin can break partnerships and maintain tight control over the game.
Mujeeb Ur Rahman
Mujeeb Ur Rahman, another young spin sensation, can be a trump card for Afghanistan. His off-spin bowling can result in wickets and disrupt the flow of the opposition's innings.
Predicting the Match
The outcome of this match will be heavily influenced by the wicket-taking abilities of these bowlers. Here are some key factors to consider when predicting who will dominate at Wankhede:
Pitch Conditions
The nature of the pitch at Wankhede will play a critical role. If it offers assistance to fast bowlers with early swing and bounce, Mitchell Starc and Pat Cummins could be the dominating forces. However, if the pitch favors spin, Rashid Khan and Adam Zampa might take center stage.
Early Breakthroughs
Taking early wickets is often the key to victory. The team that manages to strike early and dismantle the top-order can set the tone for the match. Both Australia and Afghanistan will rely on their wicket-taking bowlers to achieve this.
Middle Overs Control
The spinners, Rashid Khan and Adam Zampa in particular, will play a crucial role in controlling the middle overs. How well they can tie down the opposition and pick up wickets will be a decisive factor.
Death Overs Mastery
Bowlers who can execute yorkers, slower balls, and other variations effectively in the death overs can be instrumental. Mitchell Starc and Mujeeb Ur Rahman may be pivotal in the final stages of the innings.
Conclusion: Bet from Indibet
As we eagerly await this high-stakes encounter at Wankhede Stadium, it's only natural for cricket enthusiasts to consider adding an extra layer of excitement through cricket betting. If you're looking for a reliable platform to place your bets on this match and other captivating fixtures in the ICC World Cup 2023, Indibet is a reputable website to explore.
Indibet offers a user-friendly interface, competitive odds, and a wide range of betting options to enhance your cricket-watching experience. Remember to bet responsibly and enjoy the battle of wicket-taking marvels at Wankhede!