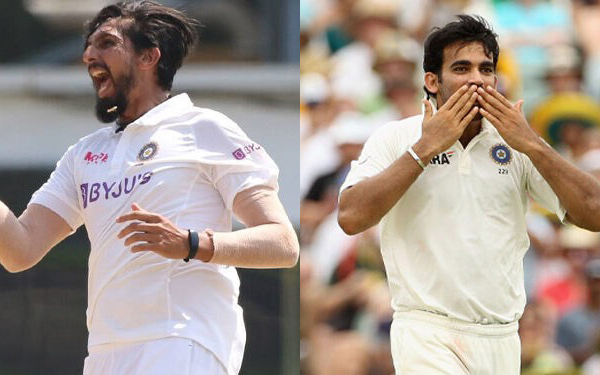 Fans are shocked after learning about the identical Test statistics of Ishant Sharma and Zaheer Khan. The veteran pacers have both achieved remarkable career numbers, leaving everyone amazed. These cricket legends, who are now working as commentators for the India-West Indies series, expressed their joy after seeing their respective wicket tallies.
Both players have taken 311 Test wickets in their careers. Zaheer Khan has achieved a five-wicket haul 11 times and a ten-wicket haul once, while Ishant Sharma has also taken five-wicket hauls 11 times and a ten-wicket haul once.
Additionally, Zaheer has taken 104 wickets in India and 207 wickets overseas, while Ishant has taken 104 wickets in India and 207 wickets overseas as well. These statistics have become viral on social media ahead of the India-West Indies Test series. Fans are sharing funny memes and expressing their surprise at the similarity between the two players' career numbers. Zaheer Khan, along with Sourav Ganguly, played a crucial role in India's 2011 World Cup victory and later became the director of the Mumbai Indians team. He is currently working as a commentator and analyst.
On the other hand, Ishant Sharma has also transitioned into a commentator and has gained popularity in international cricket. He is currently commentating in Hindi for the Jio Cinema channel. Ishant Sharma's commentary has received a lot of praise. In the IPL 2023 season, he delivered an outstanding performance for the Delhi Capitals.
In the second Test against the West Indies, India achieved victory by dismissing the opposition for 76 runs in the second innings, with Craig Brathwaite (28) and Kirk Mckenzie (0) failing to perform. Tejnarayan Chanderpaul (24 batting) and Jermaine Blackwood (20 batting) are currently at the crease. Ravichandran Ashwin has taken two wickets so far.